Below you'll find cadidate statements from individuals who are running for Presidential Elector. Please review these statements ahead of the State Convention voting period.
At-Large
Yvanna Cancela
Statement 1
I'm State Senator Yvanna Cancela. I represent the 10th district in the Senate and am a proud Nevada Democrat. I've spent my career fighting for our state's working families and helping to elect Democrats up and down the ticket. I'm running to be a Presidential Elector because I strongly believe this may be the most important election of our lifetime. It would be an honor and a privilege to represent Nevada in the Electoral College.
Please see below for my endorsement from the Biden campaign: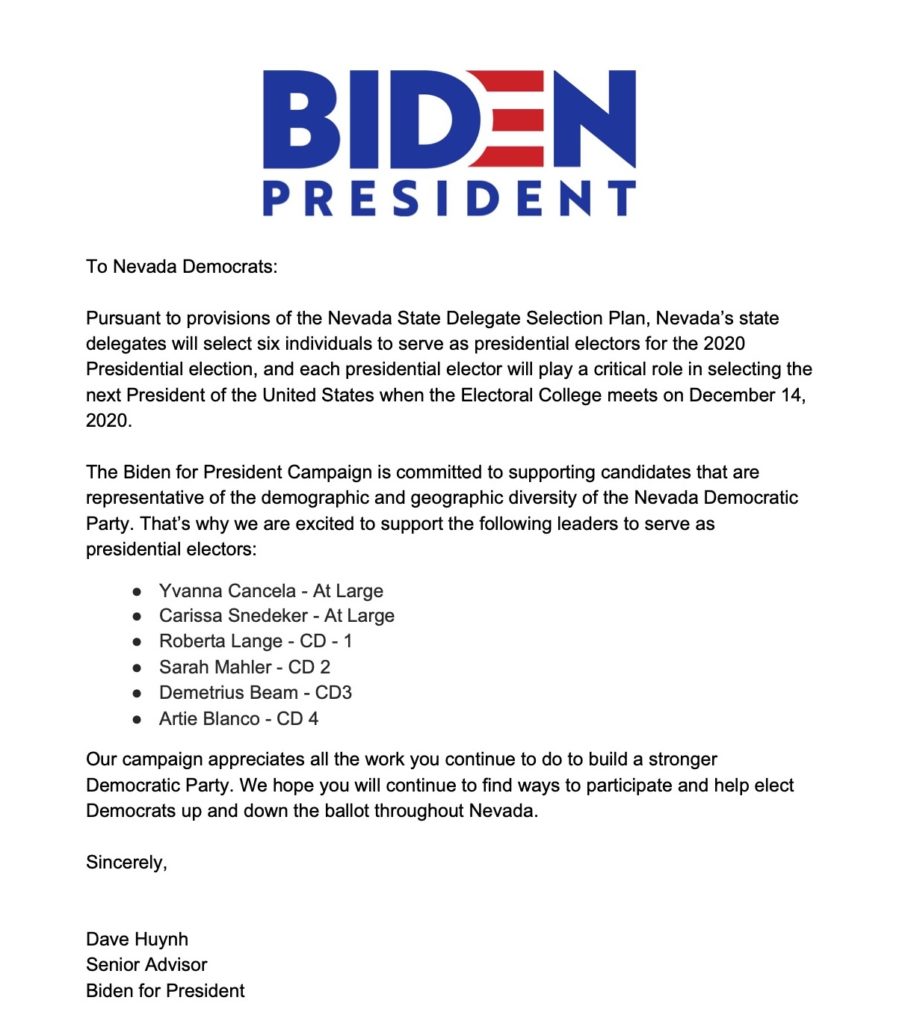 Gabrielle d'Ayr
Statement 2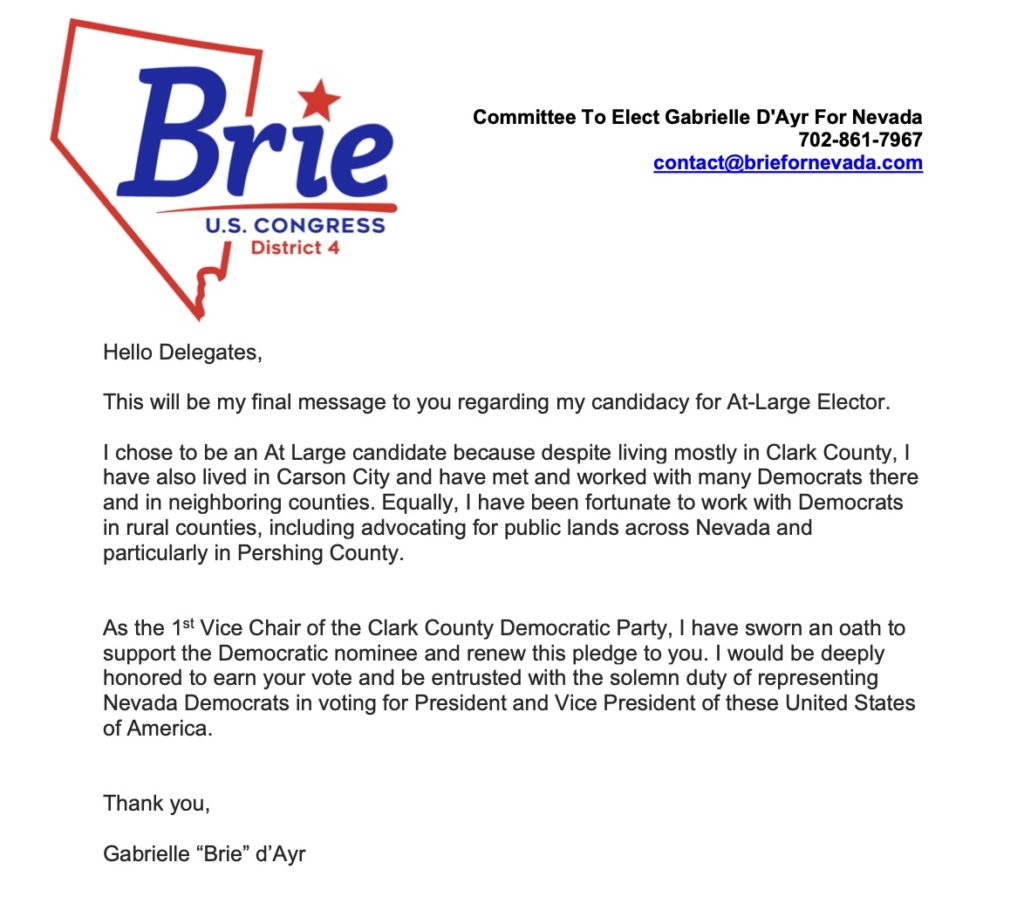 Michael Guss
Statement 3
I live in Fallon and am the only candidate for At-Large Elector who lives outside Clark and Washoe County. I have been involved in, and volunteered for, Democratic Campaigns in Nevada for over a decade. I have spent most of my career working for small rural and tribal governments to obtain federal funding for infrastructure and social services. In 2018, I was the Democratic Nominee for Mineral County Commissioner and, while I lost the election, I helped the party improve over its 2016 performance in a small, rural County. Before the caucus, I knocked on just under 500 doors for the Biden campaign. I firmly believe that Electors should follow the will of the people and vote for the candidate who won their state. If Elected, I will do so. I also believe that rural Democrats should be represented in the Electoral College, and as I am the only candidate from outside Clark and Washoe County running for Elector, a vote for me would ensure geographic diversity amongst Nevada's electors.
Steven Horner
Statement 1
Hello, my name is Steven Horner and I am running to become an at-large Presidential Elector. This position is more than just an honor, it is the actual vote that each State has in selecting the President of the United States. No matter anyone's opinion about the process, at this point in history this is the process we must follow. And this election will determine the legacy of our country. For many years I have walked, called, donated, registered voters and chaired many meetings, this year I would appreciate the opportunity to cast one of the six elector votes for Nevada for the next President of the United States in December. Please when you vote remember Steven Horner and please vote for me.
Mark Nash
Statement 1
I am uniquely qualified to serve as a Presidential Elector this year because
1. I can be trusted to follow all rules and laws governing electors as evidenced by the fact that my candidate statement, unlike those of my two opponents endorsed by Vice President Biden, consists of less than the 250 words allowed by the state convention rules.
2. Unlike one of my opponents endorsed by Vice President Biden, I have never, nor would I ever, accept a donation or endorsement from the Las Vegas Police Protective Association. I will always represent the people, not those who seek to harm and kill them.
I appreciate your consideration and look forward to working with you to achieve a big Nevada Democratic victory this fall!
Mark Jason Nash, candidate for at-large Presidential Elector
Carissa Snedeker
Statement 2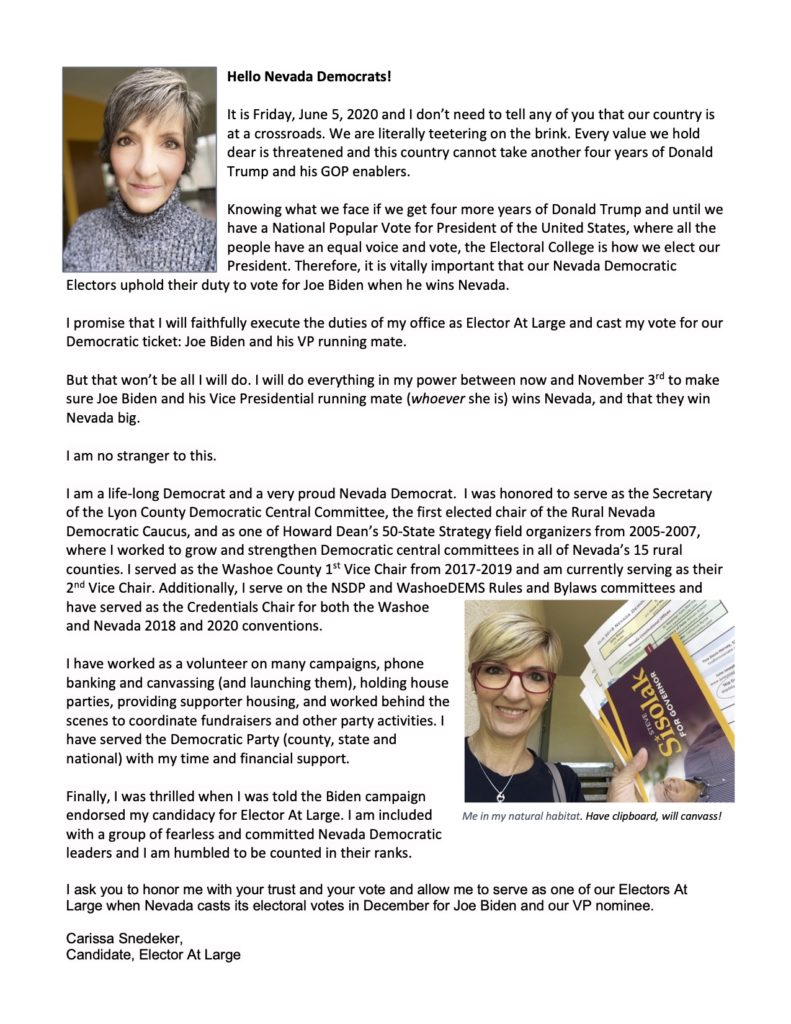 Pierre Tissot
Statement 3
Hello again my fellow Nevadans. We hear everywhere that our country has been in crisis for the past few weeks, but I feel like our country has been in crisis for much longer than that. On the evening of November 8th 2016, we all knew that the situation would degrade until we would hit the point of no return. It took three and a half years, but here we are now. It is vital that we all do our civic duty this coming November and make sure that we do not have to deal with four more years of the current administration, as the crisis will only worsen. As part of my civic duty, I would be honored if, as a presidential elector, I could represent all Americans, from all ethnic backgrounds, from all classes in society, and cast my vote for Joe Biden, ensuring a brighter future for every American, from both sides of the aisle, and for future generations.
Thank you very much for your time.
Congressional District 1
Roberta Lange
Statement 2
Roberta Lange is a retired teacher, a respected union leader, and the former three-term Chair of the Nevada Democratic Party. During her first term as Party Chair, Roberta spearheaded in-state efforts to ensure that Nevada went blue for President Barack Obama. In 2016, Roberta led the fight against Donald Trump and turned our state blue up and down the ballot, including ensuring that our state went blue for Hilary Clinton. Roberta is running for the Elector position because she wants to defeat Trump this fall nationwide, just like Nevada did in 2016. She will cast her ballot for Joe Biden because she knows he can defeat Trump in November and get our country back on track.
Matthew Tramp
Statement 2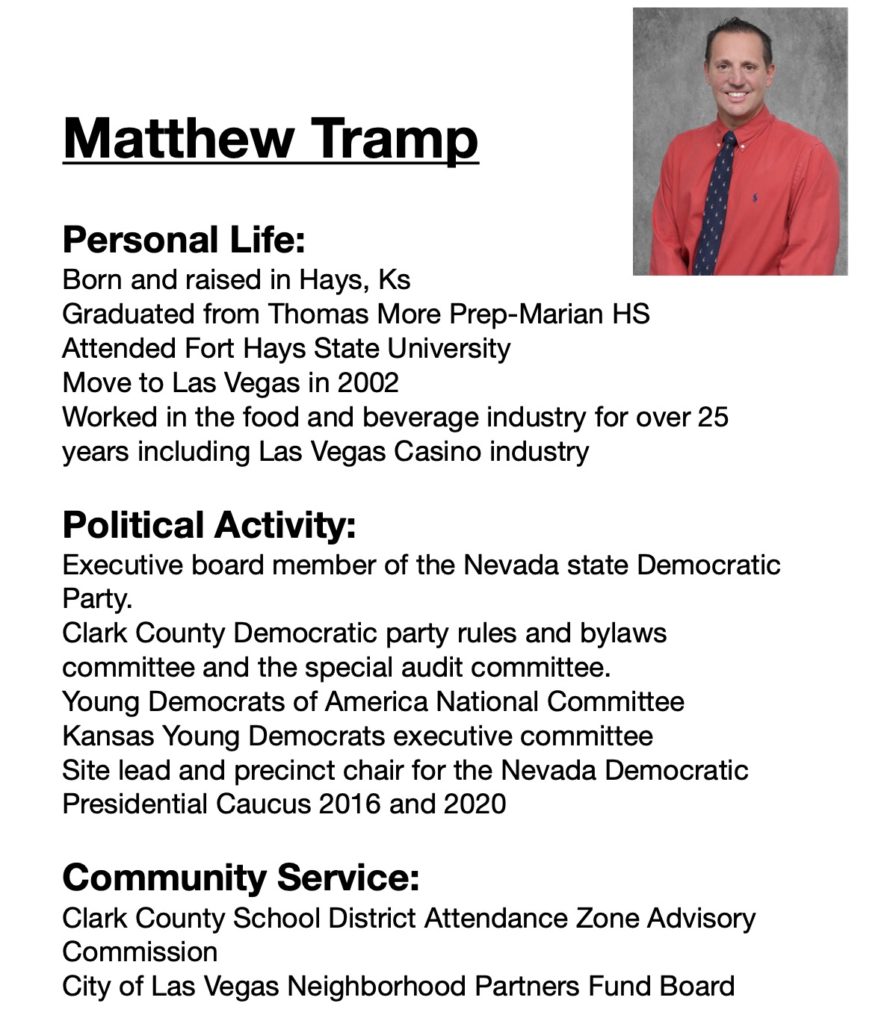 Judith Whitmer
Statement 3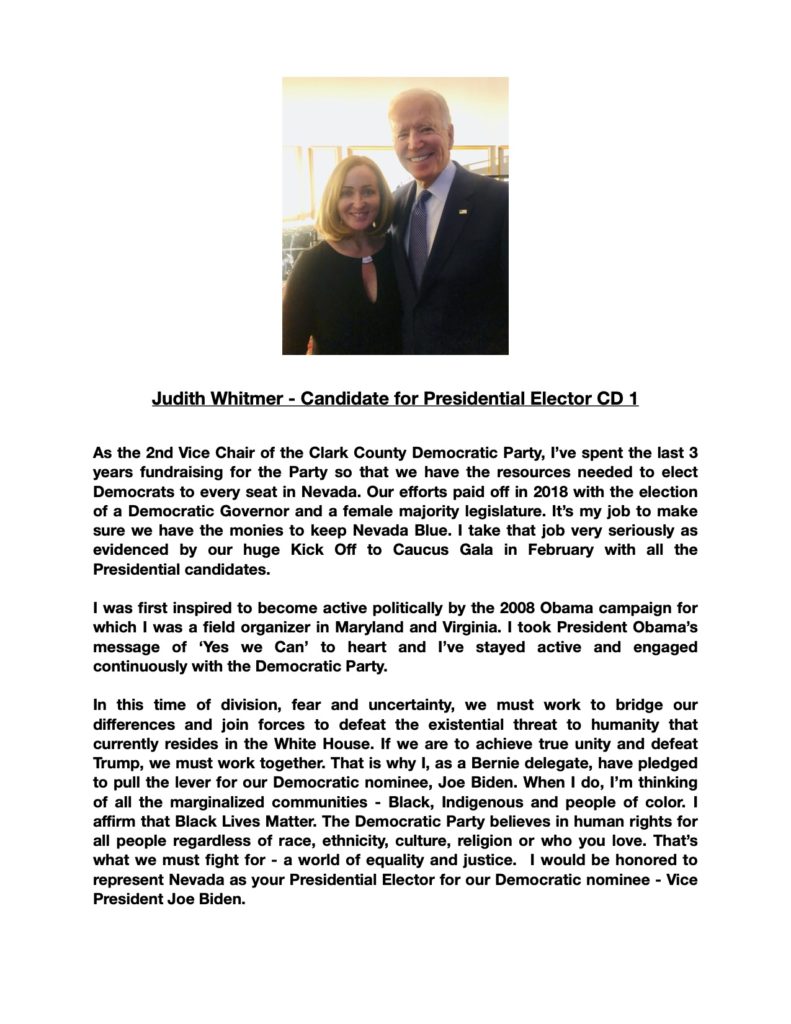 Congressional District 3
Demetrius Beam
Statement 3
Greetings again fellow State Delegates,
My name is Demetrius Beam and I am again asking for your vote to become the Congressional District 3 2020 Nevada Democratic elector. In addition to being a 17-year High School Social Studies teacher and coach in Clark County School District, I am also a married father of three – ages 17, 14 & 11. Having this opportunity to become an electoral candidate has already opened up the household discussion about the electoral process and if I am voted to represent Congressional District 3 as your elector, I will have the opportunity to expand that discussion and experience to my approximately 200 students/year. In fact, it was a former student who currently works for the Democratic Party that contacted me about being a Caucus Site Lead this past February and the experience was wonderful. In addition to representing your vote for president, I will continue to volunteer in an effort to keep Nevada blue and move that wave nationwide.
I am thrilled to have the endorsement of the Biden for President Team and would love the opportunity to represent CD3 in Carson City on December 14. I believe in this republic and I believe in the Democrats message, now all we need are the voters to turnout and I will work to see that happens between now and November 3.
Thank you once again for your consideration: I am Demetrius Beam and I would love your vote for the Congressional District 3 elector.
Sincerely,
Demetrius A. Beam
Michael Stella
Statement 1
Joe Throneberry
Statement 3
In my third and final message to Delegates and SCC Members, it has been my goal over these last two messages to share more about myself with you so that you can make an educated choice when you VOTE during the 2020 Nevada State Democratic Convention. I respectfully ask that you VOTE for JOE THRONEBERRY, where you see my name on the ballet. If you have any questions for me, feel free to reach out at joethroneberry@aol.com and lets talk. I will commit to making myself available to my fellow Nevada Democrats and carrying your message with me to the DNC and NV Dems Executive Board meetings.
With over 20 years' experience and industry leader in fighting fraud, I will continue to work hard to promote the ideas of morality, economic reform , efficiency and social welfare within the Democratic Party.
During this campaign process I have met outstanding volunteers, fellow candidates, and those passionate about both improving the Democratic Party and ensuring to elect Democrats up and down the ticket. I have also met some that are for maintaining the "status quo", going along with the "establishment" even when there are clear conflicts of interest/lack of transparency, others with just plain self-interests, and those that are just clearly not qualified. Please review each and every candidates' filing documents, personal messages, and social media/campaign material and make an educated vote on who will do the best job. Your critical vote during this virtual Convention will determine the direction for the NV Dems well into 2020, a time critical in history. It is not just about winning in November, it is about what also comes afterward.
In conclusion, I wish to thank you for having taken the time to review my candidacy and respectfully ask for you to VOTE for JOE in November and VOTE for JOE THRONEBERRY during virtual Convention.
Congressional District 4
Artie Blanco
Statement 2
I'm asking for your VOTE to be an Elector representing Congressional District 4. I'm a 1st generation American, 2nd generation UNION Member/Activist and 2nd generation DEMOCRAT, proudly following in my father's footsteps.
As an elector I commit to voting for the President and Vice-President that wins Nevada, (our Democratic Nominated candidates). The role of an elector is to represent their state's voters' choice in an election outcome for the President and Vice-President of the United States. Throughout history there have only been four elections where the Popular Vote and the Vote of the Electors were not in agreement (1876, 1888, 2000 and 2016). I believe it's time to revisit this process but until then I'm here to represent You.
Since 2013, I have served as an At-Large Member of the Democratic National Committee representing Nevada. I'm also a member of the Rules and Bylaws Committee and the Executive Committee of the DNC fighting for Nevada's place in the nominating calendar. I'm proud to represent the Battle Born state that came back from a 2014 election defeat to taking back control of our legislature, control of our Congressional delegation, electing two female U.S. Senators and electing the first Democratic Governor in 20 years.
I'm asking for your VOTE to represent District 4 and the state of Nevada as your Elector. As a Democrat and Union Member I will continue to Fight to ensure that Nevada votes for the next President of the United States – Our DEMOCRATIC Nominee – Vice President Joe Biden.
Ryan Hampton
Statement 3
What we do in 2020, the decisions we make as a united Party, the people who represent us, and the changes we commit to make together will have a lasting, and hopefully healing effect on our country.
I believe in the Democratic Party. I believe in our values. I believe that together we can—and we will—overcome the systemic, generational challenges in healthcare, race relations, equality, and more. I see this more than an election, rather an opportunity to lift up the people our Party aims to represent. The voices of millions who struggle daily to pay the bills, provide housing for their families, and get their loved ones to the doctor when they are sick.
We have a unique opportunity as Nevada Democrats in this convention process. Six years ago, as someone who was struggling to find help for my own mental health condition, Medicaid saved my life. And only because of that opportunity am I able to write this message to you today. As small as this may seem for many, the opportunity to serve as your Presidential Elector in 2020 is a remarkable chance for us to begin to do things a little differently. Engaging and embracing the real struggles we have been through, and allowing those directly impacted to represent our Party's values at every level is a remarkable statement. I pledge to stand for our Party, our platform, and our nominee who will defeat Donald Trump in November.
Nola Lynch
Statement 3
I support Joe Biden
I would like your vote for Presidential Elector, even if I am not a political insider. I view this as my opportunity to step up as a citizen who has always been loyal to the Democratic Party, and I believe I am the best person for this job.
In February, early in the primary season, I supported the candidate I preferred—like many of those who attended the caucuses did. That candidate, Elizabeth Warren, left the race and endorsed Joe Biden. The race narrowed quickly, and I am 100% behind the party's choice—Joe Biden.
As I wrote in my first statement, I understand the history and function of the Electoral College. I personally hold strong convictions in favor of Democratic principles of justice and equality, although this particular job does not call on those. Nor does it require political experience.
My own journey goes from the lower middle class in Miami to becoming a first-generation scholarship student at a selective college in Massachusetts, to editor and corporate spouse and mother, to business person in Nevada. I strive to live kindly, ethically, and tolerantly. For me these qualities have aligned perfectly with the Democratic Party.
As an editor I organized and planned the original Congressional Quarterly's Guide to the Presidency, a standard library reference volume. It would truly be a high point of my life to have the honor of serving Nevada's Democrats as Presidential Elector.