Below you'll find cadidate statements from individuals who are running for Clark County At-Large Executive Board positions. Please review these statements ahead of the State Convention voting period. Candidates are listed alphebetically by last name.
Clark
Gordon Brown
Statement 2
Fellow delegates,
My name is Gordon Brown and I am running for an At-Large E-Board position with the Nevada Democrats.
The murder of George Floyd has proven – yet again – that our country is in desperate need of real change. The lackluster response from Democratic politicians shows that our party isn't up to the task.
We can change that.
At both our county and state conventions, I helped in the battle to get true progressive planks into our platform – from reparations to rent-control. As an At-Large E-board member, I'll be relentless in holding our representatives and fellow party officials accountable to our values and our vision for a better world. We've had enough empty promises – what we need is actual policy. Together, we can win!
Vote for a fighter. Vote for Gordon Brown.
Zachary Brown
Statement 1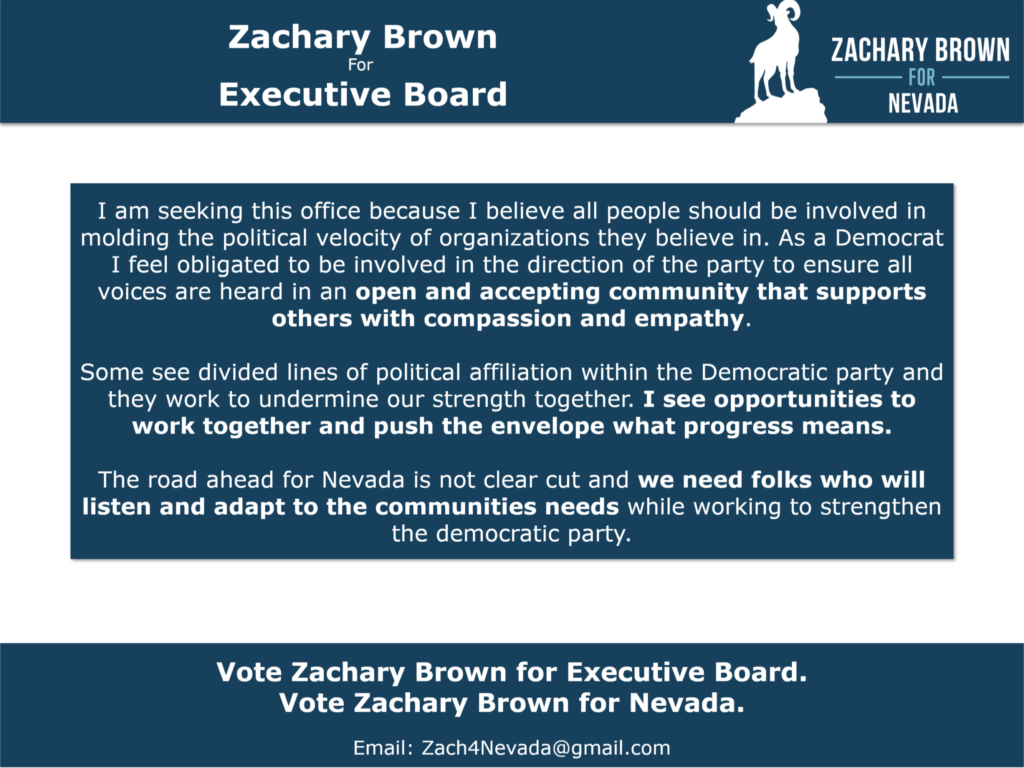 Jeoffrey Carlson
Statement 1
ShaeAnn Clements-Ojeda
Statement 3
Diane Crump-Richmond
Statement 3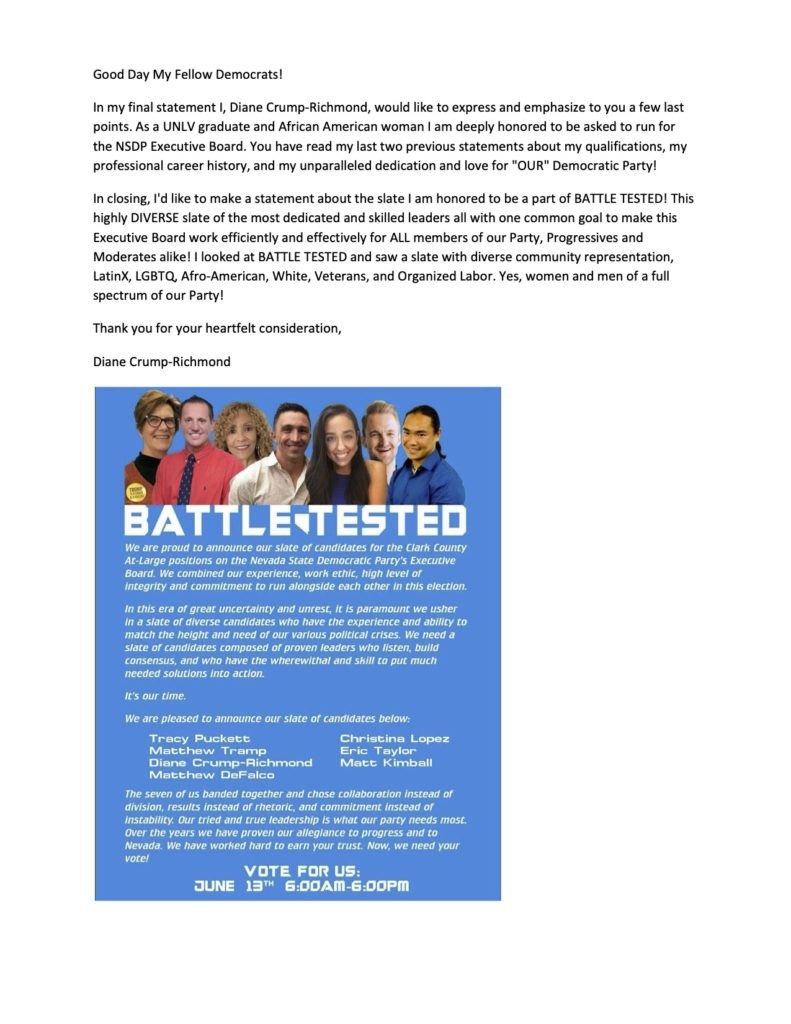 Donna Darden
Statement 3
Good Day,
My name is Donna Darden .and I am asking for your vote to be reinstated as an Eboard member at large for 2020-2022.
Change is usually greeted with shock and somehow through time reaches acceptance and implementation. Our party faces unchartered territory, and we continue to rise to the occasion , embracing change and building new paths.
In the words of Frederick Douglas, "Power concedes nothing without a struggle."
My involvement in the E-board is my very small contribution to stay connected, to learn our political process and understand the concerns of my fellow Americans. It is my opportunity to witness and be a part of historical change. I do not take that opportunity lightly.
Listening first, questioning second and presenting action third ,I plan to work with our party to support reducing the hurdles we now face and bring my skills of reasoning ,vision and accountability to the forefront. I have no fear in addressing concerns head on incorporating a win/win attitude, defusing conflict and increasing a unified approach to solution. I believe every voice should be heard and every concern, as humanly possible, be addressed.
I am an activist in the area of dealing with Facts not Fiction, changing Processes not People , being proactive instead of reactive and speaking Truth to Power.
I am hoping I can count on your vote.
Warmest regards,
Donna Darden
Certified John Maxwell trainer, teacher and coach
Gabrielle d'Ayr
Statement 2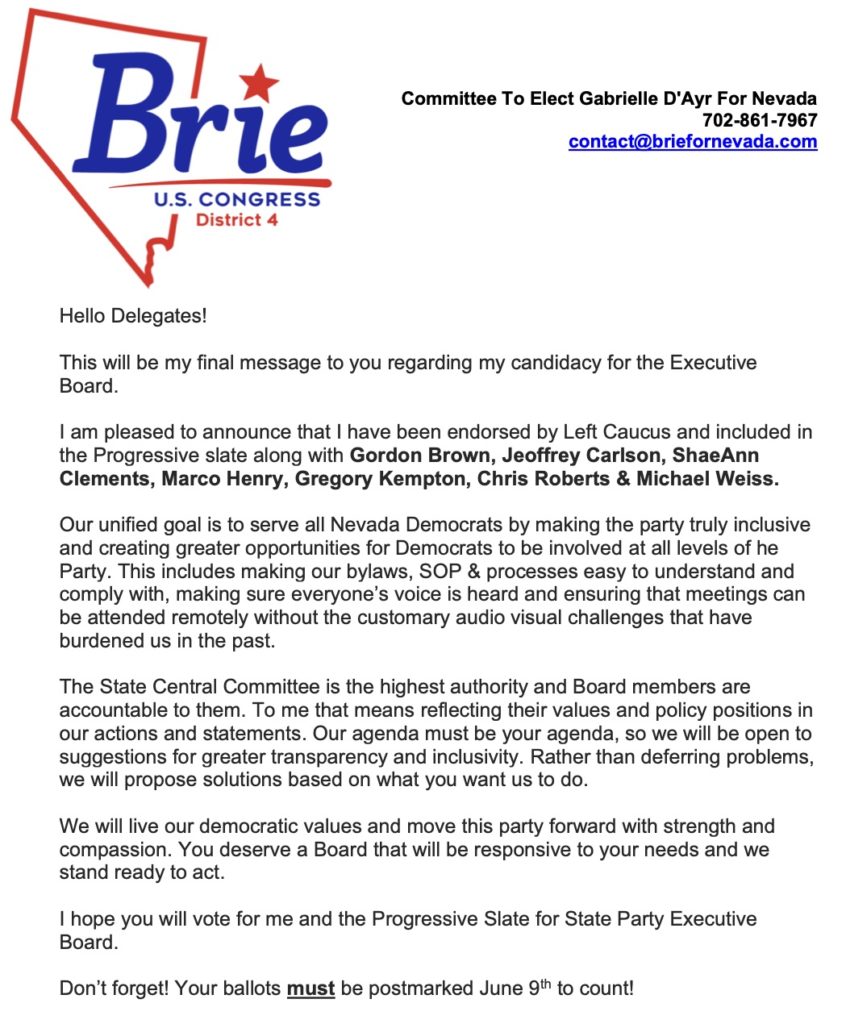 Matthew DeFalco
Statement 2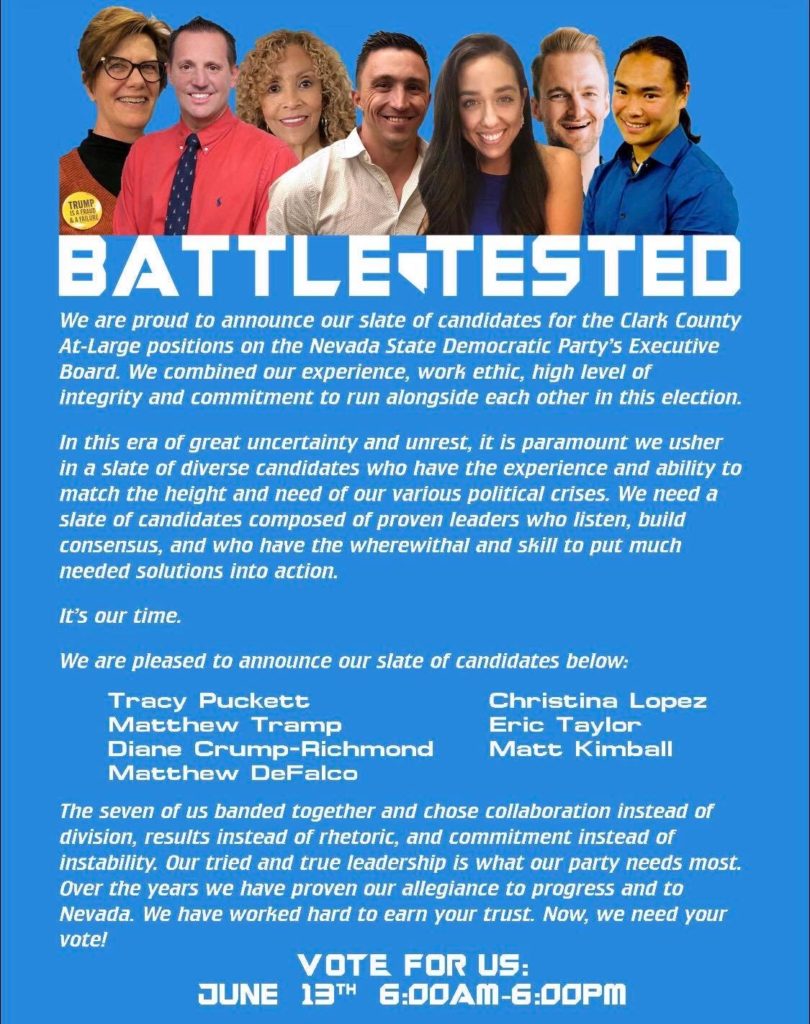 Marco Henry
Statement 3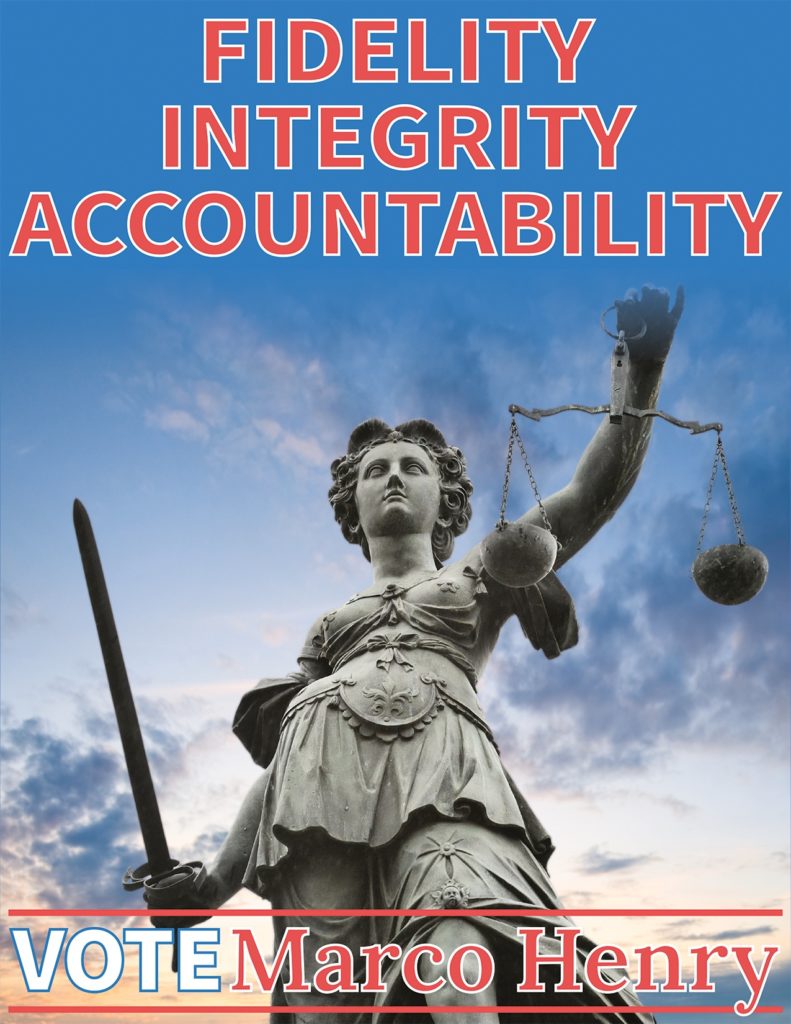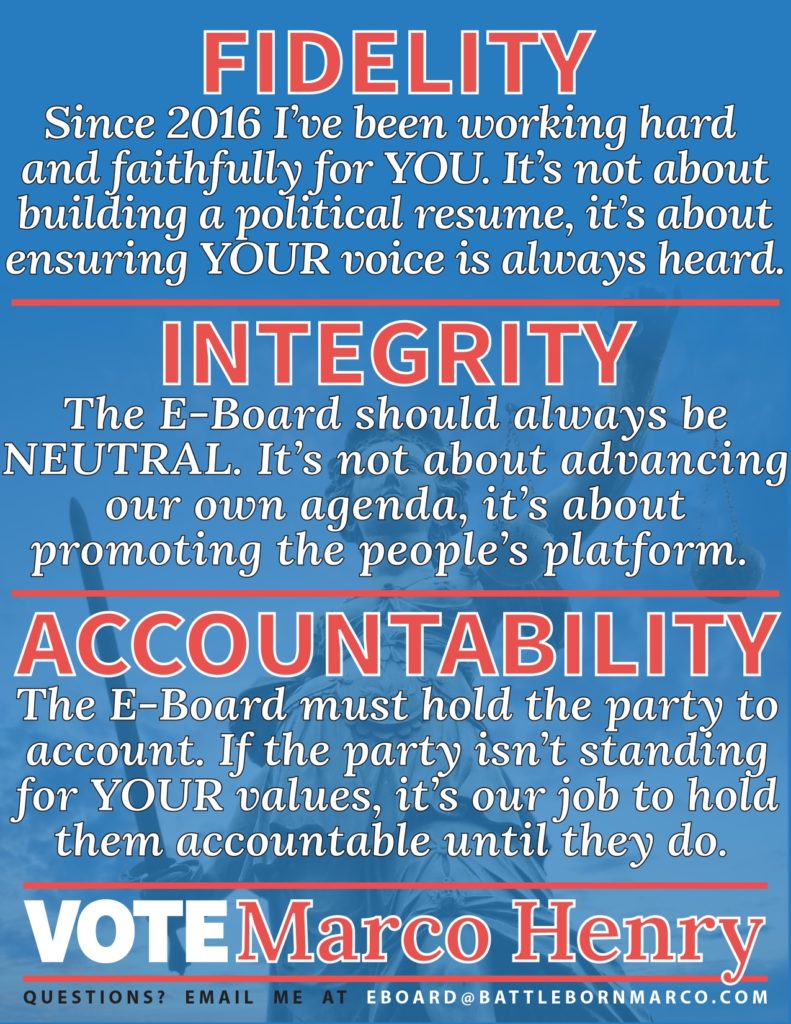 Marlin Ivy
Statement 2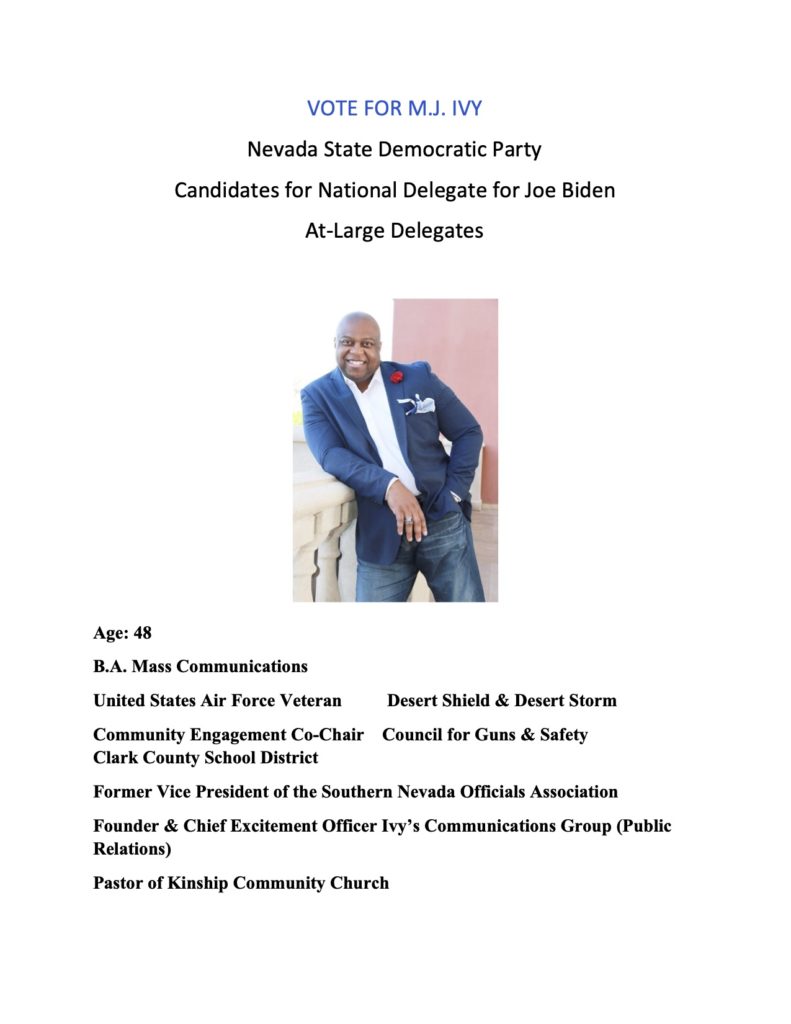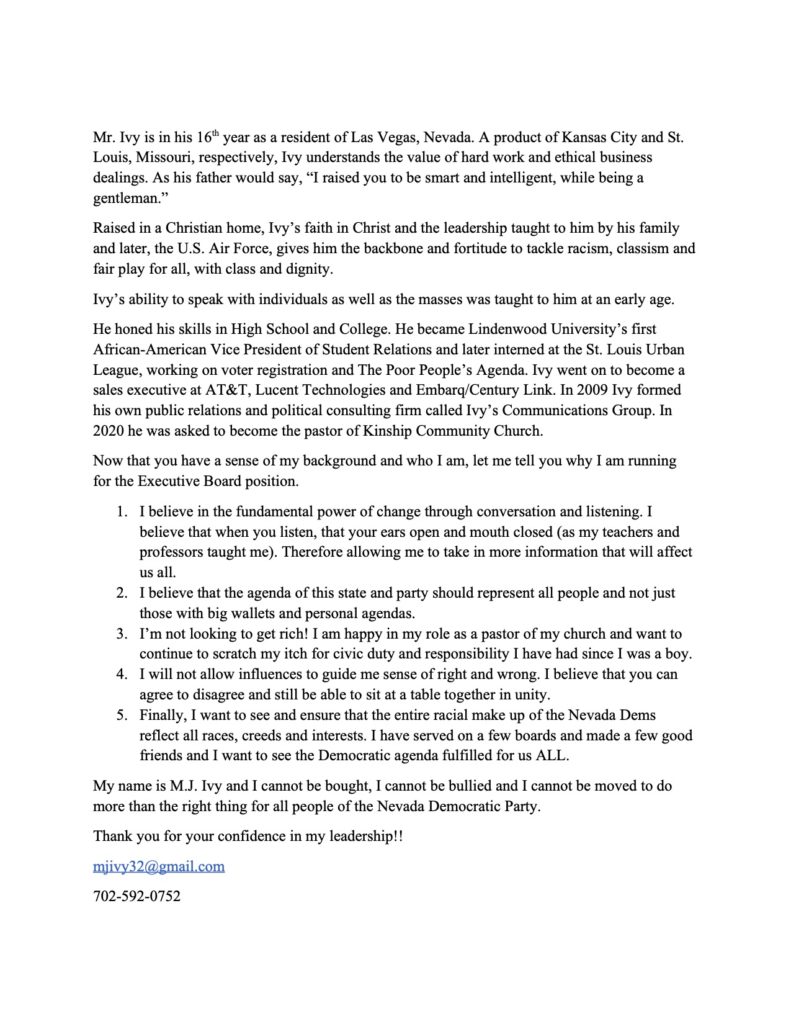 Gregory Kempton
Statement 2
Matt Kimball
Statement 3
Christina Lopez
Statement 3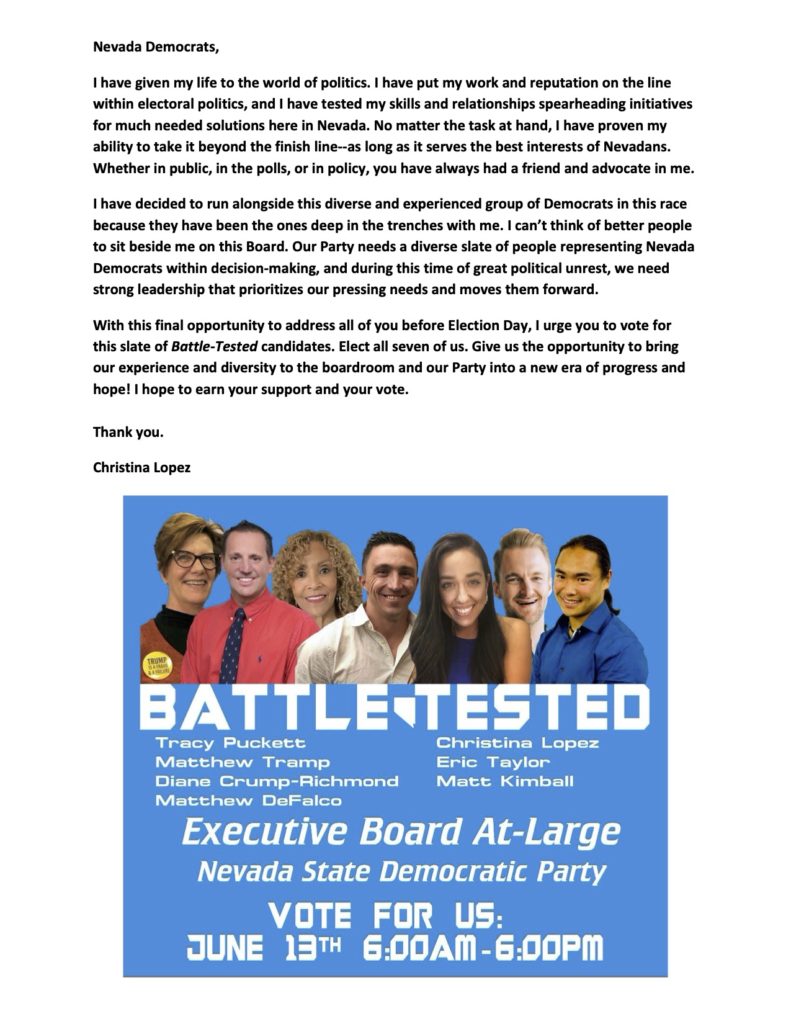 Tracy Puckett
Statement 3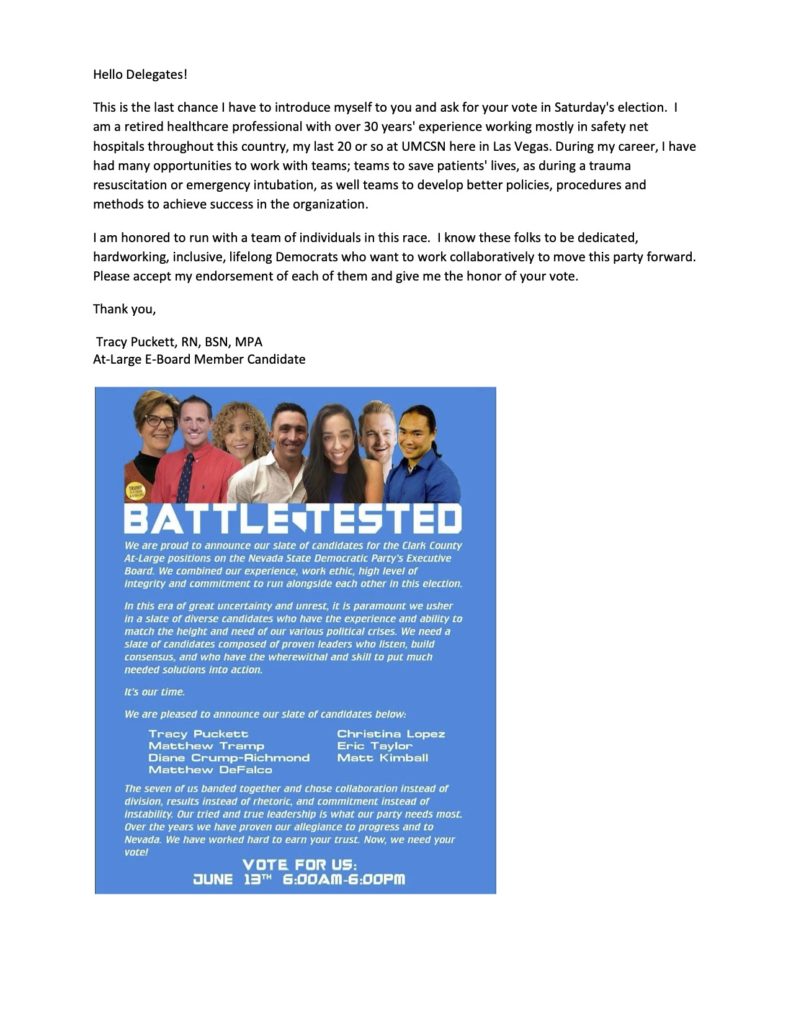 Chris Roberts
Statement 3
Fellow Delegates,
My previous two messages to you were in video form, and I encourage you to visit www.chrisfornevada.com to watch them if you've not already.
I chose to write my final message so that I can put my commitments to you in writing.
I am seeking the opportunity to serve on the Executive Board as an at-large member from Clark County so that I can be a voice for every party member, help make the party more accessible and inclusive of all Nevadan Democrats, and affect change to make the party more open and more transparent.
Nevadans deserve a party that serves their interests and does all it can to address their needs. Nevadan Democrats deserve candidates that represent and reflect their own communities. My commitment is to fight to make this a party that is run by and for the people.
I am proudly part of the Progressive Slate, all of us endorsed by Clark County Left Caucus. We ask that when you vote on June 13th, you vote for Gordon Brown, Jeoffrey Carlson, Shaeann Clements-Ojeda, Gabrielle d'Ayr, Marco Henry, Gregory Kempton, Michael Weiss, and me, Christopher Roberts.
Thank you for your support and your vote. I am eager and ready to represent you on the state party Executive Board, and I humbly request your trust by giving me the opportunity to help lead the party as we venture into increasingly uncertain times.
With sincere appreciation,
Chris Roberts
Michael Stella
Statement 1
Hello everyone,
My name is Michael Stella and I am running to be on the Nevada State Democratic Party Executive Board and I wanted to tell you why I am running for the Party Executive Board.
It is during dark and uncertain times like these where the democratic party must take the national stage and address the issues that face so many Americans. We need bold progressive leadership if we are going to create real change that real people so desperately want and need.
America is facing crises such as police brutality and racism, climate change, and a pandemic. We are also facing a crisis of leadership in America. Donald Trump has failed at leading this country but he is not the only one who has failed us. The democratic party must take a hard look at itself and ask if it represents America and the needs of Americans.
I want to be on this Executive board so that I can not only bring a progressive view to the table but also so I can bring the youth view to the table. As an 18 year old I am the future of the democratic party. With my generation the democratic party will not have a future. It is imperative for the party that it allows younger Americans like myself to play pivotal roles in the party.
Eric Taylor
Statement 3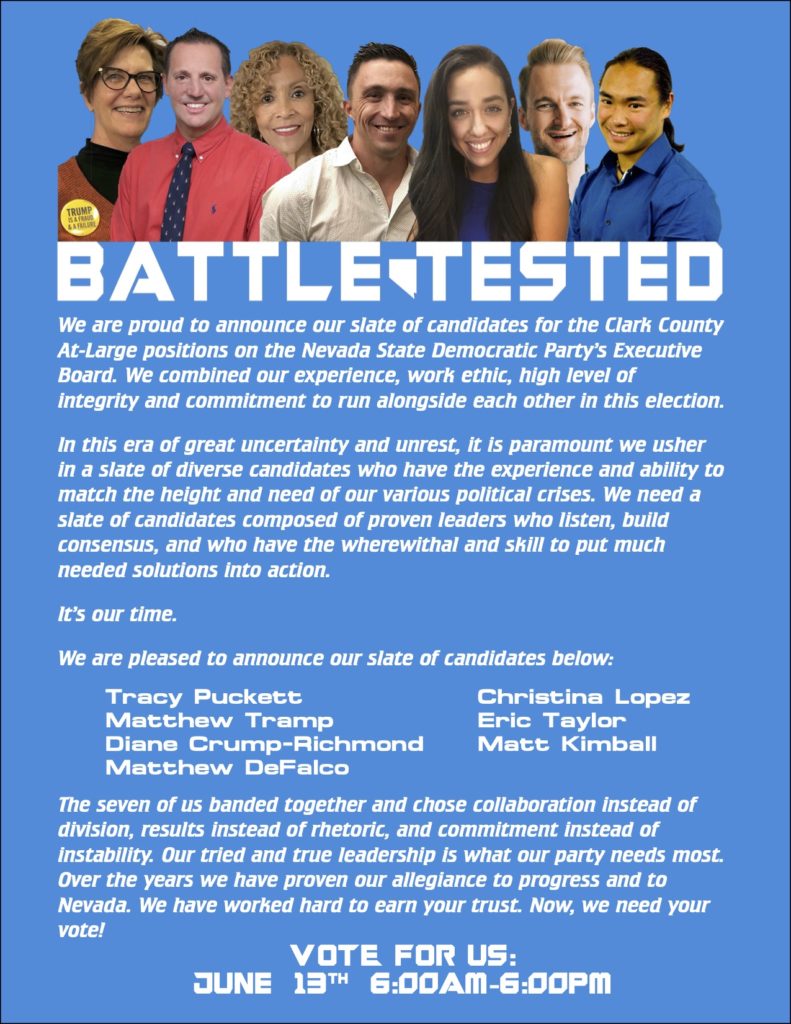 Joe Throneberry
Statement 3
In my third and final message to Delegates and SCC Members, it has been my goal over these last two messages to share more about myself with you so that you can make an educated choice when you VOTE during the 2020 Nevada State Democratic Convention. I respectfully ask that you VOTE for JOE THRONEBERRY, where you see my name on the ballet. If you have any questions for me, feel free to reach out at joethroneberry@aol.com and lets talk. I will commit to making myself available to my fellow Nevada Democrats and carrying your message with me to the DNC and NV Dems Executive Board meetings.
With over 20 years' experience and industry leader in fighting fraud, I will continue to work hard to promote the ides of morality, economic reform , efficiency and social welfare within the Democratic Party.
During this campaign process I have met outstanding volunteers, fellow candidates, and those passionate about both improving the Democratic Party and ensuring to elect Democrats up and down the ticket. I have also met some that are for maintaining the "status quo", going along with the "establishment" even when there are clear conflicts of interest/lack of transparency, others with just plain self-interests, and those that are just clearly not qualified. Please review each and every candidates' filing documents, personal messages, and social media/campaign material and make an educated vote on who will do the best job. Your critical vote during this virtual Convention will determine the direction for the NV Dems well into 2020, a time critical in history. It is not just about winning in November, it is about what also comes afterward.
In conclusion, I wish to thank you for having taken the time to review my candidacy and respectfully ask for you to VOTE for JOE in November and VOTE for JOE THRONEBERRY during virtual Convention.
Pierre Tissot
Statement 3
Good afternoon my fellow Nevadans. The biggest challenge our party is facing (and will continue facing) is voter turnout, especially for the younger generations. And there are reasons for it: our caucus system is complicated – some would say antiquated – early voting sites saw long lines that discouraged many people from participating in the primary at all, and technologically speaking, we are trailing the GOP (which has far less problems bringing the younger voters in on election day). We need reforms, we need change, we need to ensure younger generations are interested in politics, and understand how important it is for their future that they cast their votes in all elections. As a member of the Clark Executive Board, I will work hard to update our voting system, and have the democratic party finally step into the 21st century. It is high time we bring all voters back to the the polls, so we never have to witness the debacle of November 2016 again.
Thank you for your time,
Pierre Tissot
Matthew Tramp
Statement 3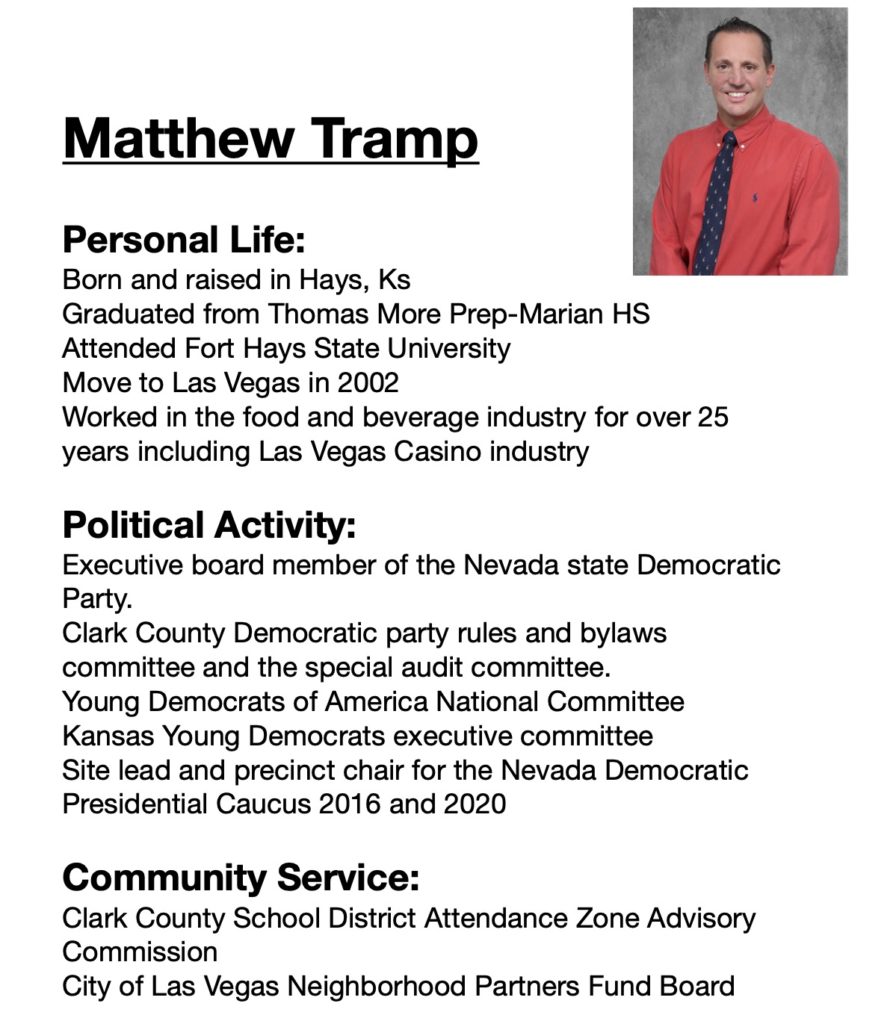 Michael Weiss
Statement 3