Below you'll find candidate statements from individuals who are running for the Washoe County At-Large Executive Board position. Please review these statements ahead of the State Convention voting period. Candidates are listed alphebetically by last name.
Massimo Balestra
Statement 3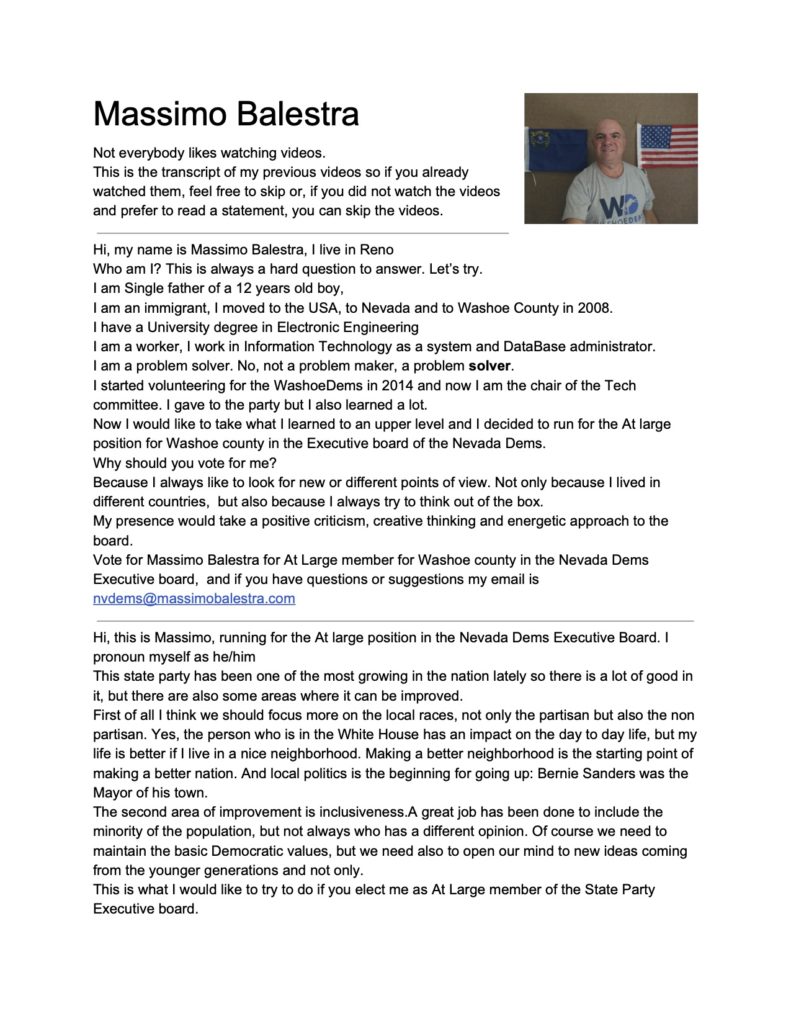 Ben Challinor
Statement 1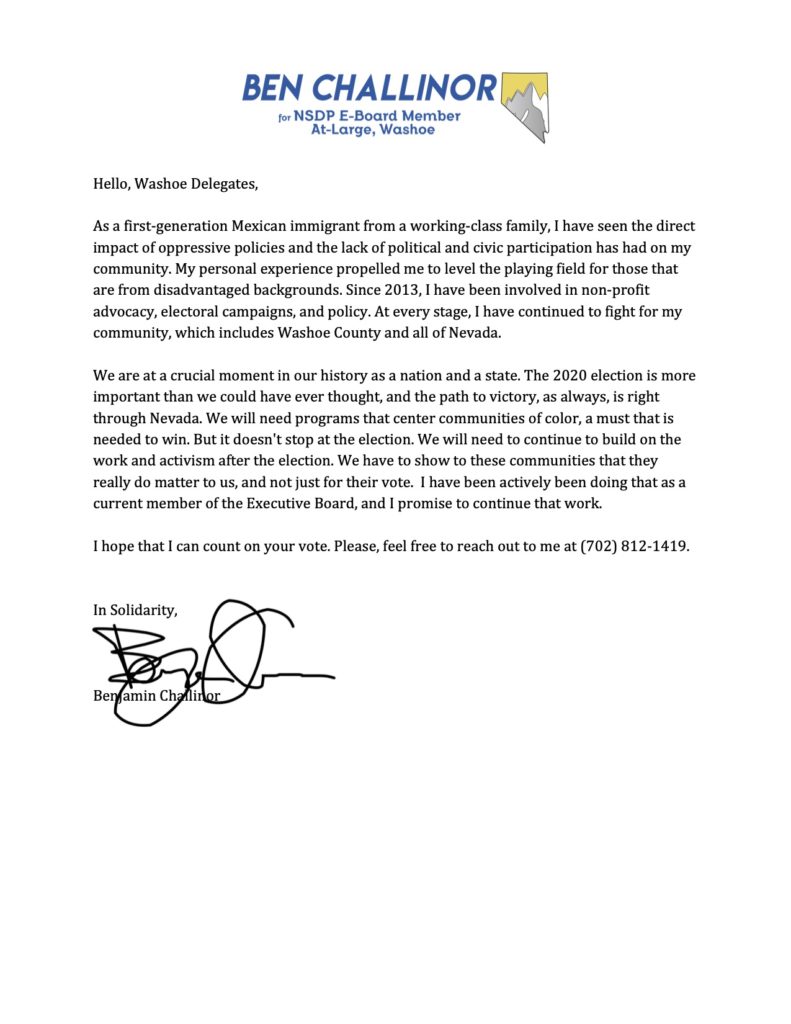 Rebecca Goff
Statement 2
Hello fellow delegates,
Democrats are facing the most important election of our lifetime. We are in a battle for our nation's soul and we need everyone to get out there and contribute what they can. I am a proven leader both in my professional and volunteer experience and want to be able to contribute my leadership skills to the executive board.
I am also committed to ensuring that we continue to make space for and listen to all voices in our party. This is why I am supporting, my husband, DNC Committeeman Alex Goff's proposal that all new e-board members take part in racial bias training. We are supposed to be the party of inclusion but I know there are many in this state who does not feel included or even heard. While we have made progress, we can and should do better. I was fortunate enough to take part in some racial bias training as a part of Emerge and it was probably one of the most impactful things I have done. As a person of mixed race myself I recognize my privilege as someone who passes as white and I know that my experience is very different than most. It helped me realize my own conscious and unconscious bias and how to always be working to better myself.
I hope that I can count on your vote for re-election as one of the Washoe County At-Large Members of the Nevada State Democratic Party Executive Board.
Sincerely,
Rebecca Goff
Carissa Snedeker
Statement 2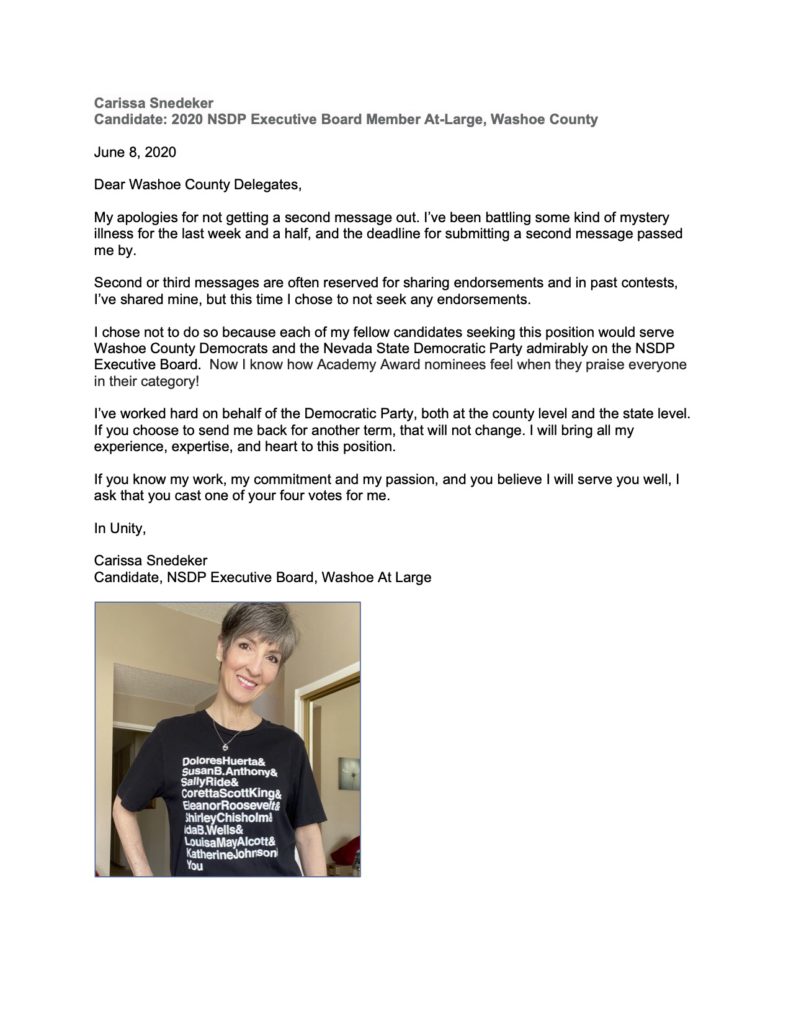 Nnedi Stephens
Statement 2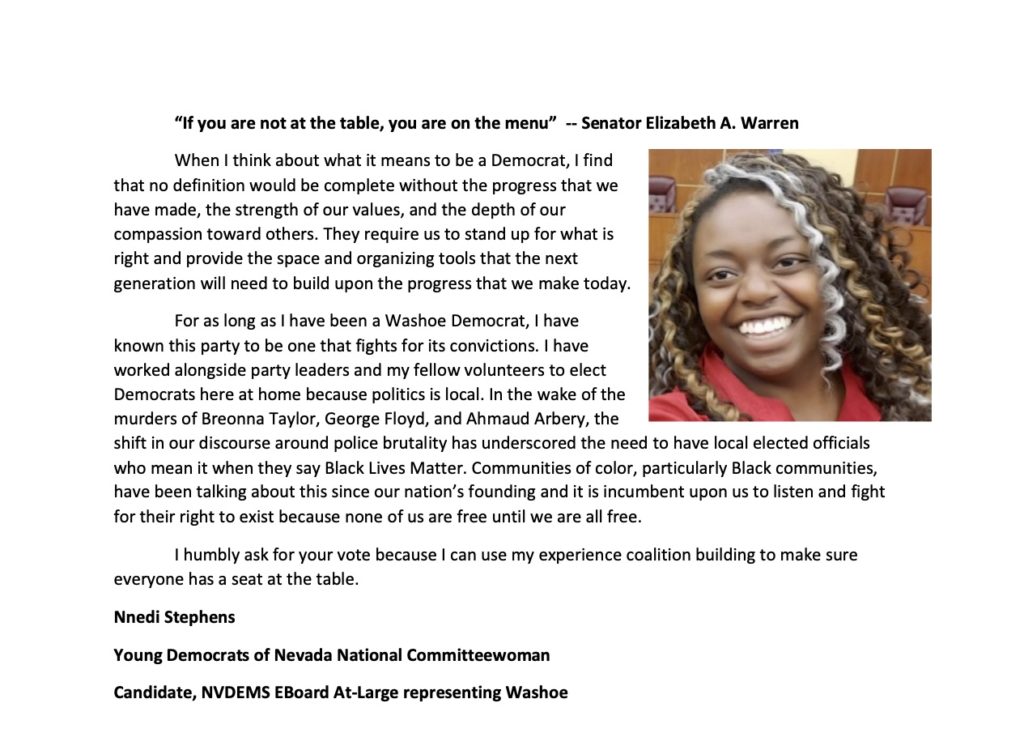 Chris Wicker
Statement 2
Hello Washoe County Delegates,
I decided to run for the Executive Board because I believe this country is at a crossroads. I do not need to repeat to you all the reasons this is true, but we all know it. Nevada will play a key role. Although the candidates I am in competition with would do a terrific job and they are good Democrats, my experience will be helpful in getting the job done.
I will tell you some things about me. I have been a Democrat since birth, or close to it, which was challenging growing up in Wyoming. I have practiced as a litigation attorney at Woodburn and Wedge since 1983. From the 90's to present, I have been an active member of the county and state central committees. From 2002 to 2009, I served as the Chair of the Democratic Party of Washoe County. During that time I served on the Executive Board. I was a delegate to the 2004 convention in Boston and a delegate to the 2016 convention in Philadelphia. I was the state party's First Vice-Chair from 2014 to 2017 and a member of the DNC. I currently serve on the county's Rules and Bylaws Committee. I currently serve on the state's Rules and Bylaws Committee and as Chair of the state's Platform Committee.
If elected, I will serve actively and make the best decisions that I can.
Chris