Below you'll find cadidate statements from individuals who are running for CD-1 National Delegate positions. Please review these statements ahead of the State Convention voting period. Candidates are listed alphebetically by last name within their delegate group (also listed alphebetically by last name).
Candidates for Joe Biden
Kandi Betts
Statement 1
I am Kandi Betts, a candidate as a Democratic National Convention Delegate, and I wanted to tell you about some of my activities over the past few years! For one, I have been instructing nursing students on how to be successful nurses in society and am especially proud about this nowadays considering the recent Covid-19 outbreak.
I also delight in the small part I played in helping turn Nevada blue by volunteering making phone calls and knocking doors for NV Dems in the summer of 2018. Frankly, it is amazing to know that Nevada now has two female Senators, the first Democratic Governor in 20 years, and the first African American Attorney General in Nevada.
Further, I have earned a Certificate of Appreciation in October 2019 from the League of Conservation of Voters. Volunteering with the Elizabeth Warren for President campaign was also very inspiring for me. I support and attended the local Las Vegas "Pride" event with the Elizabeth Warren campaign. The "Fighting the War on Women" Spotlight Dinner in 2019 was also fantastic to be apart of.
Because such concepts like "equal rights" and "justice for all" are essential to me, I have been attending events with the "Fight for Her" organization and the "Human Rights Campaign" over the past few years. I also have had letters to the Editor for the Las Vegas Sun that have been published regarding speaking out against Nevada being a nuclear waste dump for our country as well as against restarting the Yucca Mountain process. How I feel when I visualize the impact that I want to have on Nevada cannot adequately be put into words. But I do know that my ability to have this impact will be profoundly limited if Senator Joe Biden is not elected to the presidency of the United States of America. It is for this reason that I want to become a delegate: to play my part in changing the trajectory of this nation for the better! And a candidate of Senator Biden's caliber – who also is a vehement supporter of affordable healthcare and fighter for our climate – is one I can support!
Terri Bothwick
Statement 3
My name is Terri Bothwick and I am asking for your support as a Delegate for VP Biden in District 1. If you are reading this statement but have not read my previous statements please click on them to learn more about me.
I plan to work diligently in the coming months to ensure we elect VP Biden. I will be making calls, canvassing, registering voters, and helping to organize Nevadans.
If you support Black Lives Matter, DACA, Planned Parenthood, Healthcare for All, and gender equality please send me to the National Convention where I will work to ensure the platform reflects the progressive agenda of Nevada Democrats.
Thank you for taking part in this process, please allow me to represent Nevada and VP Biden.
Mi nombre es Terri Bothwick y solicito su apoyo como Delegado para VP Biden en el Distrito 1. Si está leyendo esta declaración pero no ha leído mis declaraciones anteriores, haga clic en ellas para obtener más información sobre mí.
Planeo trabajar diligentemente en los próximos meses para asegurarme de elegir al vicepresidente Biden. Haré llamadas, escrutaré, registraré votantes y ayudaré a organizar a los nevadenses.
Si apoya Black Lives Matter, DACA, Planned Parenthood, Healthcare for All e igualdad de género, envíeme a la Convención Nacional, donde trabajaré para garantizar que la plataforma refleje la agenda progresiva de los demócratas de Nevada.
Gracias por participar en este proceso, permítame representar a Nevada y al vice presidente Biden.
Terri Bothwick
Jessica James
Statement 2
I believe that Joe Biden's plan for Black America is the blueprint we desperately need to bring reform to the oppressive system that is currently in place. Reforms that not only include a fight for equal pay, fast-tracked development of more affordable housing, but he has also called on a reinvigoration of community-oriented policing. He has plans for providing better access to healthcare and eliminating the disparity in funding versus that of the public schools in white neighborhoods.
It is also worth noting that he has recognized how the pandemic has disproportionately impacted this community. He wants to increase lending to Black-owned small businesses that were forced to close during shelter-in-place orders. He also wants to include Black churches on getting financial assistance. This was the biggest reason to include non-profits in the Paycheck Protection and Emergency Disaster Loan Programs. To me, this is a solid foundation in a robust set of legislation that will finally address some long-standing issues which have been a fragile wound in this country for some time.
This is an issue that is especially important to me. As an ally, I have participated in the ongoing protests of the murders of George Floyd and Breonna Taylor, among sadly, too many others. It makes me feel confident in knowing that my delegating duties are serving a candidate who cares about social justice.
Sincerely,
Jessica R. James
She/Her/Hers
Nancy Kuhnel
Statement 3
VOTE FOR ME
VOTE FOR JOE
DUMP TRUMP
I am running for Delegate to the 2020 Democratic National Convention in support of Vice President Joe Biden for the Office of President of the United States of America
Deborah Lomando
Statement 3
Hello again from Deborah Lomando
My previous messages shared how dedicated I have been to VP Joe Biden from the first volunteer meeting a year ago. Many of you know me as an all-in Nevada Democrat- a 2016 "super volunteer"; Voter Protection Team member for the 2018 mid-terms; a member of both the Clark County and State Central Committees; caucus volunteer; and poll observer for the party during current primary early voting. Here is what you may not know. I am a former educator and retired geologist. Don't get me started on the geological problems with the Yucca Mountain site! I have been blessed with a technicolor life- living 14 years overseas, as an accompanying spouse when my husband's job took us to Kuwait, Bahrain, and Angola. I cannot express to you the overwhelming joy and respect reflected throughout the world in 2008, with the victory of the Obama/Biden team. I know that 2020 will be the year to restore that respect and trust as we Democrats lead America into the future. My years overseas, living in widely different cultures within a large, international community, had such a powerful impact on my thinking and perspectives. I learned to listen. To respect individuals and widely diverse opinions. To look for shared values and facilitate consensus. These qualities would serve me so well as a CD1 National Delegate and I respectfully ask for your vote.
Candidates for Bernie Sanders
Isaac Chandler
Statement 1
Hello there, my name is Isaac Chandler, I'm 26 years old, and I'm running to be one of your delegates for the Democratic National Convention set to take place in mid-August. I'm not one for long speeches and preaching buzzwords pandering for votes, so I'll just say that I take pride in the democratic process and want to make sure the voice of our district is heard loud and clear and the National Convention.
Much like the famed Roman Cincinnatus, I'm "putting down my plow," so to speak, to go be our voice there, to shine our choice for the presidential candidate, and to express the issues that we, the people of this district, feel need to be heard at the national level. Like Cincinnatus, when I'm done, I'm putting down my laurels, coming home, and picking right back up where I left off with my work.
I know it's not the political pandering speech we're all used to hearing from candidates in politics, but I hope my message to you is clear, and I hope that you will consider me for the position. Either way, thank you for taking the time to vote, and I hope you all are doing well in these trying times and have a good rest of your day.
ShaeAnn Clements-Ojeda
Statement 3
Forrest Darby
Statement 1
My name is Forrest Darby, I have lived in CD-1 for 35 years and I was one of the original 10 Bernie Sanders promoters in Clark County in 2015. I have never left Bernie's side, and I have never been to a National Convention, and I would like to do so.
Victoria Flores
Statement 1
My name is Victoria Flores and I am running to be a National Delegate for Bernie Sanders in District 1. I am a proud daughter of immigrants. I was a first-generation college student within my family. I am the mother of two wonderful boys who inspire me daily. I am a battle-born Nevadan who has been a lifelong supporter of the Democratic party. I worked with Bernie 2020, canvassed in other cities, and was a Site Lead during the Nevada Caucus. As a National Delegate, I will fight to push progressive policies that the American people not only deserve but need. Now more than ever, the need for economic, environmental, social and racial justice is clear.
Like Bernie, I wholeheartedly believe that we are entitled to a living wage, universal healthcare, free college tuition and a clean world not ravaged by climate change. I believe for-profit prisons should be banned and finally ending the war on terror. Bernie has said time and time again, "Real change happens from the bottom on up." Now that we have seen what is possible, it is time for us act and create that change.
Tu lucha es mi lucha translated in English is, your fight is my fight. Our city is strong and resilient. Together we will collectively build a better world. Thank you for being an active participant in the democratic process. It would be my upmost honor to receive your vote to represent Nevada. Our voices will be heard. Not me, us!
Gordon Knight
Statement 1
Hello Fellow Democrats;

My name is Gordon Knight. I am asking for your vote for the National Delegate Congressional District 1 (CD-1) ballot (District Level).
I was elected a Bernie delegate at my Caucus, Feb 22, 2020. I attended the virtual Clark County Convention.

I am also running as a District wide delegate

I pledge to do my best to represent all Nevada Democrats at the historic national convention.

Thank you for your support.

Gordon Knight
Keenan Korth
Statement 1
Keenan Korth Nevada DNC Bernie 2020 Delegate Statements (CD-01)
I'm running to be a DNC Delegate for Bernie in CD1 because I believe in this movement, and I believe that I can be an effective representative for our community, our values, and our political commitments at the convention in August.
I'm a Battleborn Nevadan and a lifelong Democrat, having first registered to vote in 2008, when I was 17 years old, in order to caucus for Dennis Kucinich. More importantly, I'm a democratic socialist because I believe in order to have true justice, we need to push the boundaries of what the mainstream tells us is politically acceptable. When I moved away for college, I still voted absentee even when I was discouraged by our Party, knowing how critically important Nevada is to our national politics. After 2016, I took my commitment to our work to the next level when I quit my job and drove back across the country to organize in the community I grew up in, and I haven't looked back since.
We have so much to be proud of as Nevadans, and there is so much opportunity for this movement to grow in our communities, but we have to keep pushing forward. I'm committed to doing that, and I see our Bernie 2020 Delegation as a critical part of the building we have ahead of us. I would be honored to receive your vote to be a member of our delegation.
Jeff Nava
Statement 1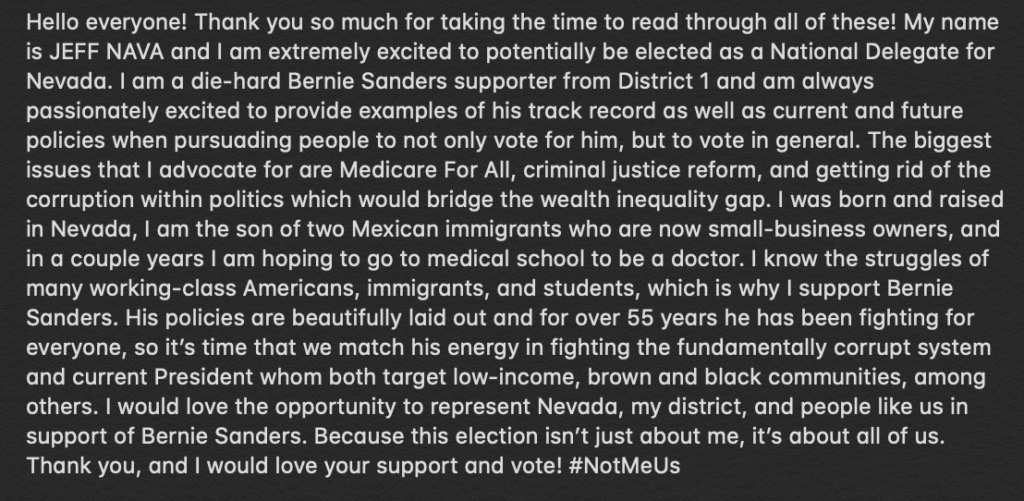 Shaun Navarro
Statement 2
TJ Western
Statement 1
Unity is the Democrats' most important opportunity to preserve democracy. Failing that, we stand to lose to a fervent, well funded opposition that favors authority over citizens and our Constitution.
As a delegate for Bernie Sanders I do not seek to divide our party but rather to represent the ideals and policies advocated by Sanders to assure that our party reflects the unity of ideas that is the Democratic Party.
I anticipate that negotiation and compromise will establish a platform and candidate that will represent all Democrats and win the presidency, Senate and House in November, 2020.
About TJ Western: Resides in Las Vegas with second home in South Minneapolis, MN, blocks away from murder scene of neighbor George Floyd. Independent business person now retired. Formerly media producer, war correspondent, campaign manager, activist and political writer. Extensive travel and work throughout Latin America. Currently in hospitality business in Las Vegas. Fluent English and Spanish.
See: Facebook @tjwestern.
Direct message at Facebook or email: tjw@tjwestern.com with comments and questions.
Power to the people!
Yvette Williams
Statement 1