Below you'll find cadidate statements from individuals who are running for CD-2 National Delegate positions. Please review these statements ahead of the State Convention voting period. Candidates are listed alphebetically by last name within their delegate group (also listed alphebetically by last name).
Candidates for Pete Buttigieg
Elizabeth Grainey
Statement 3
In 2008, my parents let me skip school with my sister so we could see our very first presidential primary candidate, Barack Obama.  We were thrilled at the chance to see him speak in person, and it is an experience we will never forget.  Before this campaign, he is the only presidential candidate I had ever seen.  This year, I was privileged enough to see six Democratic Party candidates, including Mayor Pete, when they visited Nevada.  It was inspiring to see how they all brought people together around common ideals to benefit everyone.  There is clearly much more that unites us than divides us.  Together we can help build people up and create positive change in our country.
I have really enjoyed learning about the caucus process and participating in the county and state conventions in Nevada.  It would be an honor to represent Nevada's Second Congressional District at the National Convention.  Please vote Elizabeth Grainey to be a delegate for Pete Buttigieg.  Good health to you all.  Thank you!
Candidates for Bernie Sanders
Amy Akao
Statement 1
Dear Fellow Dems,
My name is Amy Akao and I am a candidate for National Delegates for Bernie Sanders for District Level – CD-2 . As an avid Democrat, I have voted in every election since I was old enough to vote in 2000. I was inspired to register to vote while working my first job as a US Census volunteer, where I went door to door helping people fill out the census. With each election cycle, I've learned more about participating in the democratic process, first volunteering for Kerry, then caucusing for Obama, and finally caucusing and becoming a Bernie Sanders delegate at the Washoe County Convention in 2016. As a Washoe County poll worker volunteer in 2018, I helped check voters in at their polling places on primary and election day to support our election system and learned first hand about the work our county registrars do. Prior to the pandemic, I would go to as many rallies and protests as I could with my family and friends to show my support for progressive democratic policies. You can even see me standing behind Bernie at his rally at UNR on February 18, 2020 https://youtu.be/chTVVY36ric . I believe in the state party platform, where we support community based businesses, healthcare as a human right, and a fair and balanced tax system where large corporations and the top 1% pay their fair share. Please vote for me as a national delegate. Thank you.
Stay safe and healthy,
Amy Akao
Jacob Allen
Statement 2
In my second message, allow me to make something clear about my involvement in politics: it's all about policy. This is why I gravitated to Senator Sanders and his decades of public service. Whether as Mayor, Congressman, or Senator, Bernie governed on principle. He did not kowtow to special interests or partisan demands. He endorsed Reverend Jesse Jackson not because it was politically expedient or popular, but because he knew that was the best person running for the job. Sanders opposed banking deregulation, careless wars, expanded surveillance state powers, and ever-increasing socioeconomic inequality because it was just. He stood with marginalized groups when it was unpopular because he knew, as a descendent of Holocaust victims, where the evils of bigotry can lead.
While my record is nowhere near as productive as Bernie's, I view politics similarly. It is unjust that over 70,000 Americans die every year that would be alive had we enacted a single-payer healthcare system by now. It is unjust that corporations receive bailouts and subsidies while the average American is no better financially than they were coming out of the Great Recession. It is unjust that law enforcement officers so frequently act as judge, jury, and executioner in our streets, and disproportionately in majority minority communities. I've always stood for justice and common sense and I'll never bend my principles because it is expedient to do so. Hopefully you will support my bid to take these progressive principles to the national convention.
Andrew Barclay
Statement 1
Hi,
My name is Andrew Barclay. I am running to be a national delegate and an at-large delegate for the rural counties for Bernie Sanders. My pronouns are he/him.
I have been a lifelong Democrat, and I believe that voting in every election is every person who lives in this countrys' duty, not just a privilege. Through this duty, we have the best chance to make lasting, systemic change to the broken systems of healthcare, institutional racism, and the military-industrial complex.
I am a conservationist in Lyon county and climate change has been the biggest issue for me for years. I believe we can survive this catastrophic change to the environment, but only if we take bold action and take it NOW! So please vote for me if these are issues that speak to you. Thanks.
Massimo Balestra
Statement 2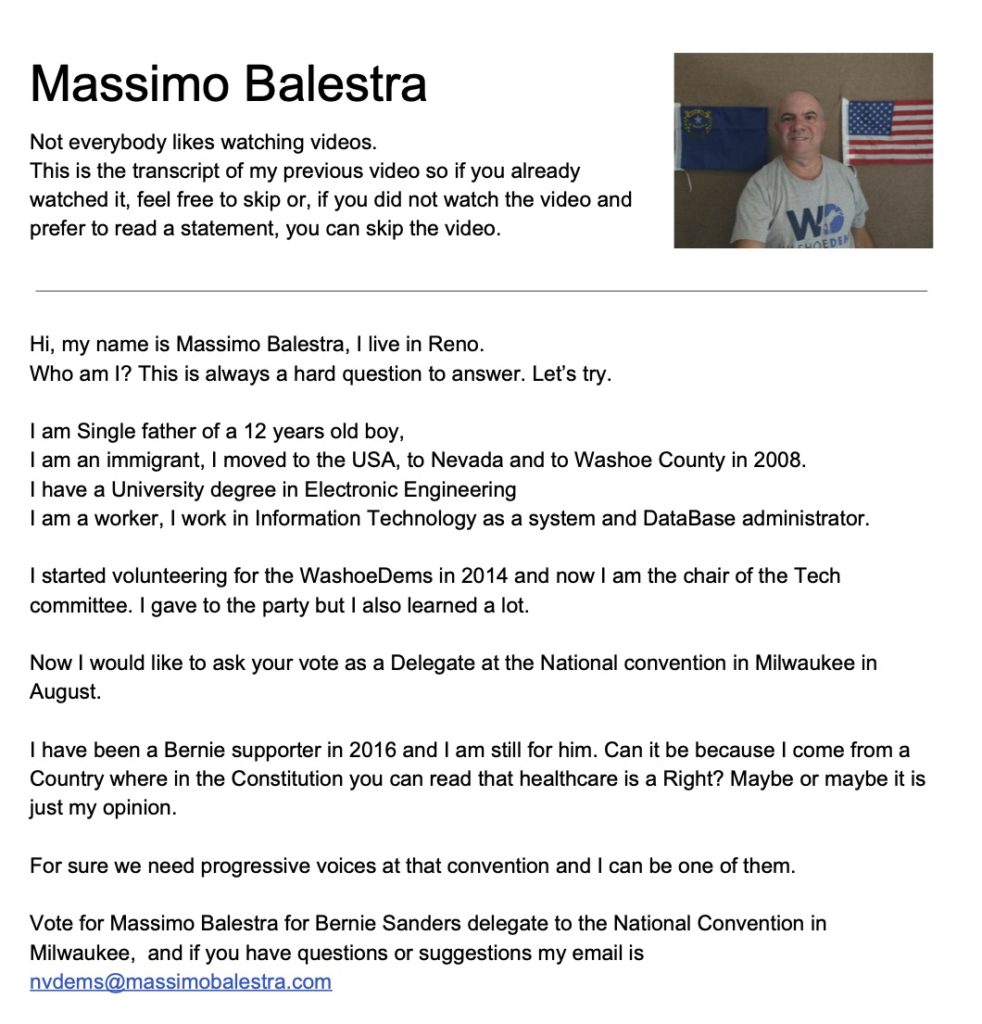 Dorothy Dean
Statement 3
My name is Dorothy Dean and I am a Douglas County delegate for Bernie Sanders. I am seeking a District 2 or At-Large delegate position to the Democratic National Convention.
My first delegate candidate statement, a video, is about what brought me to support Bernie Sanders—the necessity of Medicare For All for America. My second statement was a response to the overwhelming issues our nation is facing.
This statement may be my last opportunity to speak with all of you like-minded people. I have thought a lot about what would be the most important thing to say to my fellow Democrats, regardless of whether I am elected as a delegate.
 Remain steadfast. That is the message I want everyone to take to the Democratic National Convention and into the future. There will be setbacks and losses, but our country's values of justice, compassion, and equality can and must be restored. Our fight is for the lives and liberty of our fellow citizens and for the survival of our planet. Even if we elect a Democratic president this November, our work is not over and our resolve cannot falter. It will take the power of all the people to effect the changes that the United States must enact to become a nation in service to all the people, not just a select few. We will remain steadfast.
Mahalia Jaramillo
Statement 1
My name is Mahalia Jaramillo and I would be humbled to serve as a National Delegate for Nevada. I worked as a Field Organizer for the 2020 Bernie Sanders campaign in Reno from last June until the caucus in February. During my time working on the campaign, I knocked on many doors and talked to voters all across the state. I was able to hear directly from Nevadans about the issues they were facing and the different ways their families were struggling. I learned about the hardships and heartaches that are leaving our community members feeling sick, broke, and like they have no voice. Conversation after conversation with people from around the state made things very clear. Bernie Sanders was the only candidate who made those I spoke with feel heard and feel like the battles they were facing could be won. He is still the only candidate who is actually fighting for us, the people, and not for anyone or anything else. It would be an honor to represent the countless individuals I spoke with and to help advocate for my fellow Nevadans on a national level.
Erika Minaberry
Statement 2
My fellow Bernie Delegates,
On Tuesday, the Bernie Family lost one of the best activists one could ask for. Nora Prochaska was a genius in how she connected with people, and drew the connections between the political atmosphere and daily life. She would give you the shirt off her back, she was so caring to everyone in the community. In the end, she was a victim of the transphobia and hatred embedded in this capitalistic system. She fought longer and harder than should be expected of any single person, and she was exhausted. While there is an emptiness in the activist community that simply can't be filled, Nora earned some rest. No one will ever come close to filling her shoes, but we can pick up where she left off. I will fight with the strength and strategy of Nora Prochaska.
In Solidarity,
Erika Minaberry
Leslie Sexton
Statement 1
John Solomon
Statement 1
Hello,
WHO: I'm a single parent, small business owning, nature and freedom loving activist with a master's degree. I got involved with Bernie Sanders in 2016 and was a state delegate. I am a local party chair (this month) and was treasurer and then vice-chair. I am a lobbyist on criminal justice issues. I have a large garden, chickens and just finished constructing my own greenhouse. I am a musician.
WHY: I have been involved in politics and pollical action most of my adult life. I was kicked out of high school for protesting the military industrial complex, was a Jesse Jackson delegate and believe firmly and act and live my life on progressive values. I believe climate change is an existential threat to humanity. Bernie Sanders rekindled my desire to affect change through the political process. In 2018 I knocked on every democratic door in the city limits of Fallon, NV. I have real sense of urgency.
Thank you,
It would be an honor to represent Bernie Sanders as a delegate to the national convention.
John Solomon