Below you'll find cadidate statements from individuals who are running for CD-3 National Delegate positions. Please review these statements ahead of the State Convention voting period. Candidates are listed in alphebetical order by last name withing the candidate delegate group (also in alphebetical order).
Candidates for Joe Biden
John Ackeret
Statement 3
Grace Altman
Statement 2
I am proud to consider myself American. In saying that I was not always an American. 12 years ago, I gained my citizenship through legal naturalization and I have never been happier. Many years of my life in my native country, I dealt with political and bureaucratic corruption. Going out on the street, calling the police, or dealing with mountains of red tape would make me sick to my stomach. This situation has given me a unique perspective forming my views of the Democratic Process America has. I have seen what damage a troubled political system can do and correcting too late yields little results. The desire to participate at the Democratic Convention comes from what I witnessed and experienced as a member of that society. Many times, the grass is always greener on the other side of the fence, but I see the grass is greener here as there is hope. Those without similar backgrounds and knowledge that I have will not understand what it really means to walk out on the convention floor, raise their voices, and their vote moving our Party forward. Currently our country is breaking at the seams over issues and problems needing resolution. Our party should move the country onward in a way to assist this healing. This years' convention will be a testament to the Party's will to accomplish this and I will be one of those promoting this healing. Take your time and nominate me, Grace Sidel Altman as your delegate.
David Attaway
Statement 2
Hello fellow Nevada Democrats. I'm proud and honored to be considered as a national delegate for Joe Biden from the 3rd Congressional District and will pursue the opportunity with the seriousness it deserves. My wife and I, both lifelong Democrats, moved to Henderson in 2017 to begin our retirement and have thoroughly enjoyed making the Silver State our home. I made a career in the public sector for 36 years and believe in the power of the Federal Government and its institutions to enact positive and equitable societal changes. Now with the bleakness of the Trump presidency hanging heavy over the land, I was compelled to action when Joe said that the very soul of our country was on the November ballot. Having been a Biden Booster since he first ran for president in 1988, I joined his Clark County campaign as a Precinct Captain among other commitments.
Joe is the "chicken soup" for our soul. As president, he will provide the uplifting rhetoric, emotional connections and empathy, and the-buck-stops-here leadership that we so desperately need. He will spur Congressional actions through collaboration, compromise and cajoling, if need be, to get our national agenda moving forward. So please help me to help the Nevada Democratic Party and elect me as a delegate for Joe Biden to the National Convention so we can put the divisiveness and negativism of Trumpism to the dustbin of history. Thank you for your time and consideration.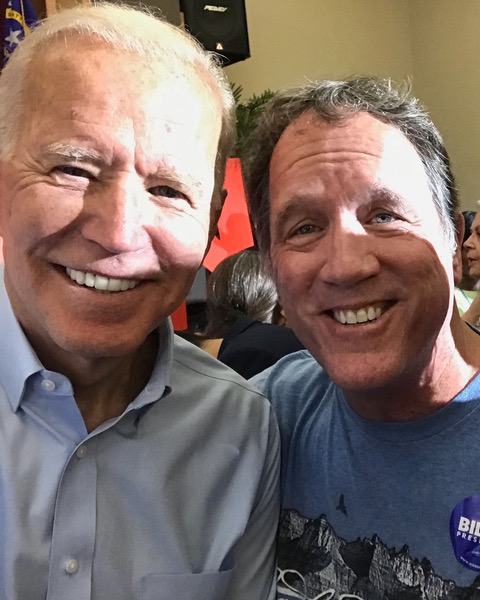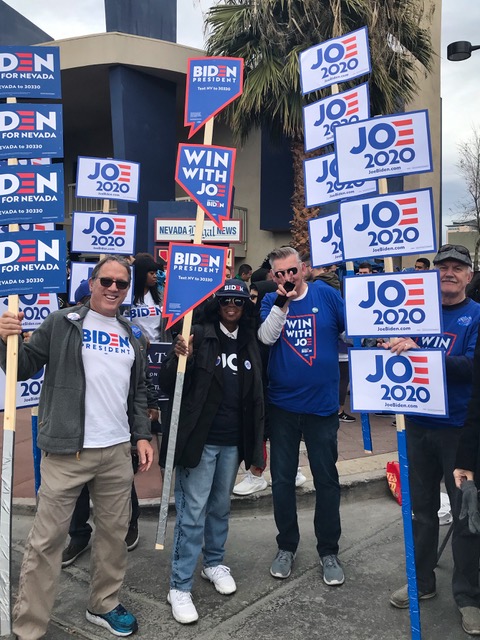 Helaine Bates
Statement 2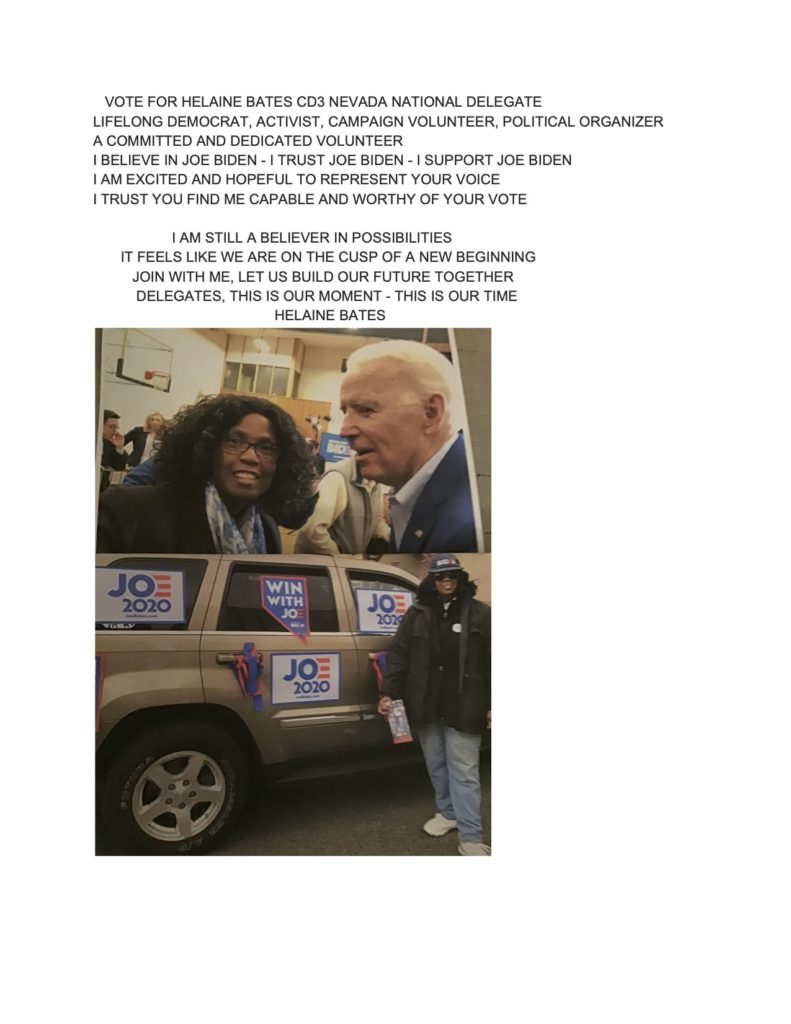 Demetrius Beam
Statement 1
Jada Beasley
Statement 3
Hello! My name is Jada Beasley and I would like for you to vote for me to be a delegate at the National Democratic Convention.
Our country is in trouble. Our beloved United States of America is being transformed into the Divided States of America. Divided. Divided by wealth. Divided by gender. Divided by race. Divided by political party. Divided by education. Divided by social groups.
Yes, we all are different and it is important for us to embrace our differences. But when our differences prohibit us from being treated equally. When our differences stop us from getting the same education as other groups. When our differences don't allow us to make the same wages as others performing the same job. When our differences don't allow us to be exposed to the same opportunities as others. When our differences prohibit us from purchasing housing in certain areas. When our differences make a group more likely to be on the endangered list, there is a problem!
Joe Biden realizes these problems. He has a plan to invest 640 billion into safe, affordable housing. Biden also wants to increase minimum wage. He wants to invest in children from birth, through college, and after. Not only does he want to invest in their education, but he also wants to increase counselors in schools to help with mental health issues. These are a few of the reasons I support Biden for President. And I hope you vote for me, Jada B, to be a National delegate. Thanks!
Alex Butterfield
Statement 3
It is Time to Think Big:

The deep trauma of the Trump years can engender sweeping change, not just the unseating of the President, not just the wresting of the Senate from the cynical grasp of Trump's enablers, but a fundamental transformation of politics from dark and entrenched bi-partisanship to enlightened deliberation and discourse.
It is Time to Think Expansively:

We must believe that it is possible to love one's country and yet embrace humanism and globalism; we must believe in both the creative power of change and the necessity of preserving indelible values and international norms.
It is Time to Seize the Moment:

In tragedy there is opportunity; in great tragedy resides great opportunity. The tragedy of Trump, compounded by the tragic pandemic and the dramatic tableau of the Floyd murder, offers tremendous opportunities for profound, positive change.

Let us not underestimate the power of this moment in time.
Take it from a former leader of the so-called "Deep State," there is no Deep State…only good men and women like you and me who want the great American experiment in democracy to succeed and flourish for the good of all mankind. I would be proud to represent my fellow Nevadans as a district or at-large national delegate. I am qualified, and, after a lifetime of apolitical service to the nation, energized and dedicated to unseating the corrupt and endlessly ignorant Trump and his un-American enablers in Congress.
Aaron Catz-Fisher
Statement 1
Hello Nevada Democrats my name is Aaron Catz-Fisher. I'm proud to be a candidate for CD 3 national delegate supporting our former vice president and the next President of the United States Joe Biden. I have been working to support Nevada Democrats as staff and volunteer since 2008 when I assisted with setting up for the caucus. Some of you might remember me from 2016 when I was a field organizer for the NSDP working in Nye, Lincoln and White Pine counties. Others know me from when I was the Commission District F representative on the Clark County Democratic Party executive board. I would greatly appreciate your vote to be one of the National Delegates to the Democratic National Convention from the great state of Nevada.
Thank you and let's get to work to ensure Donald Trump is a one term mistake.
Aaron Catz-Fisher
Lori Church
Statement 3
My name is Lori Church and I am running for National Delegate for Joe Biden, our next President! This is my third message to ask you for your vote. I care about the great state of Nevada and this country. We must elect like-minded public officials to put our country back on the progressive path to excellence. I hope you will consider my request for a National Delegate for Joe Biden. Together we can unite this country and ensure this great nation's prosperity for future generations. Thank you for your consideration.
Matthew DeFalco
Statement 1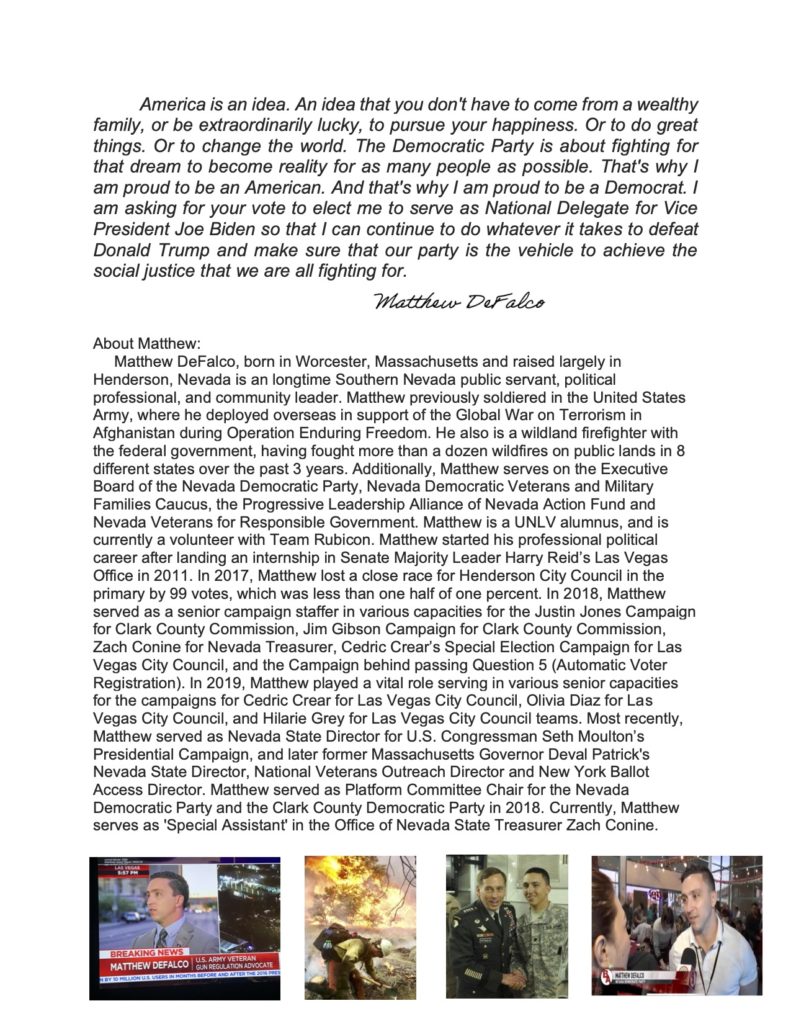 Rachel Eichen
Statement 2
Nadia Gilkes
Statement 3
We live in an amazing country. We are a nation whose vibrant history is woven together like a fabric of our lives; lives that are black and white and yellow and brown.
We have always been a nation that has welcomed the talents and struggles of people from all nations and faces. We are not a nation who would put those people in cages and take their children from them.
That's why I am a Democrat. The Democratic Party looks like America. Its strength comes from knowing that what makes America great are the efforts and talents from people of all walks of life.
As a woman of color who grew up in a lower class community and went on to earn my law degree, I have always known that the Democratic Party was the only viable political option for me. It was the only party that truly represented me and what I believe in. Coming into this election cycle we have a lot of issues that need to be cured – human rights, economic stability, the environmental crisis. I am proud that the Democratic Party, my party, stands on the right side of history on all of these issues.
I would be extremely honored to take part in the Democratic National Convention when we elect Joe Biden to represent us in the upcoming national election. I humbly ask for your vote.
Manuel Ginez
Statement 2
Hello! to my fellow Democrats I believe this year's coming election will be one of the most important in our lifetime. Our nation has not been this chaotic since the Vietnam war. In my first message to my follow delegates I gave you some information on my background so I will not repeat myself instead I will just add to it. I did spend 4 years in the US air force after my military service most of my working career has been in civil service occupations. I have worked for the city and the county of Los Angeles California. I have taught at the high school level Automotive technology. I have been a lifelong Democrat because I have noticed in my lifetime this party has fought for the rights of the working people in our country. I am not against rich people. I know there are many good men and women in our country that are rich. I just believe the working class in our country needs a bit more help. On the same subject I believe there isn't one job more important than another. It takes a village for society to work in harmonie. I am for Joe Biden I believe he will bring back some honor to the office of the presidency. I look forward to representing Nevada as a delegate.
I would be honored and privileged to receive your vote.
Manuel Ginez
Erin Grady
Statement 1
My name is Erin Grady. I am in District 3 and I hope to become a delegate for Joe Biden at the national convention.
I recently moved to Las Vegas from Cleveland, Ohio with my husband. We were both active in local and state Democratic politics in Ohio. I am excited about this election and understand the importance of having a strong Democratic candidate. I have long been a Joe Biden fan and was able to see him speak in Lakewood, Ohio for President Obama in 2012. I believe Joe Biden Should be the nominee and I am eager to lend my support. It's an honor to be able to support Joe at the state level. I think that we as Democrats can come together and rally in order to get Joe Biden elected in November.
I'm proud to now be able to call myself a Nevadan and I would like to be a delegate from our great silver state for Joe Biden at the national convention in Milwaukee. We need to win back the White House!
Thank you for this opportunity.
Cheryl Grames
Statement 1
This is my first time seeking a national delegate position, as now my family circumstances enable me to commit to supporting Nevada at the national convention.
I am a single mother. All my children have been born here, and attend public school (Clark High School, Las Vegas Academy, and Fertitta Middle School). Equal access to excellence in education by fully funding our public schools is the most important issue to me.
I am an attorney. I put myself through law school here in Nevada, and I understand the legal community here. Equal access to justice is the second most important issue to me. Prosecutors over-charge their cases because plea bargains save money while financially bullying defendants into accepting the pleas. This has to change.
Nevada needs to be in the forefront of public school excellence and equal access to justice, and I want to help. As both a mother and an attorney, I know how to explain challenging concepts simply and effectively. My job is to be persuasive. I am a trained facilitator and know how to work toward consensus, but I know how to fight for what's right, and right now, Nevada needs to maintain its commitment to a progressive agenda while ensuring that a Democrat wins in November. I originally supported Elizabeth Warren at my precinct caucus, but afterward, she announced her support of Joe Biden. Therefore, I am supporting Joe Biden 100%.
-Cheryl Grames
Joyce Hadnot
Statement 1
Hello State Convention Delegates:
My name is Joyce Hadnot, I am a life-long active Democrat and extremely honored to be selected as a delegate for Joe Biden at the State Convention representing Congressional District 3. In addition to serving as a delegate at the State Convention, I am seeking your support and vote for my candidacy as a District-Level National Delegate.
Prior to moving to Las Vegas in 2015, I served in California's State Government for over 30 years at an executive level developing, implementing and administering public policy which required me to collaborate closely with legislative and congressional representatives. During my appointments in California State Government, I also served as president & vice-president for several nonprofit organizations with national and local objectives which also required me to interact with elected officials at the federal, state and local levels. Since turning 18 years of age, I've voted in every election, served my country in the armed forces and served the California public in state government. My service commitments to several nonprofit organizations in the Sacramento communities were all conducted beyond my role(s) as a civil servant in California at large. As a retired public administrator, it would be my honor to now serve Nevada as a National Delegate.
Ken Khoury
Statement 3
Sara Madlock Coleman
Statement 1
Hello,
My name is Sara Madlock Coleman district 3 Clark County. I am running for the National Delegate position. Here is why I would like your support.
I need this. There are some things you can explain and there are some things you just know. I know I'm meant to be a National Delegate representing the state of Nevada. Everyone has a purpose in life. Everyone has a calling. This is my calling! This is my time to take steps to help change the world!
Let me start by doing my part in making Vice President Joe Biden the 46th President of the United States of America!!!
Sincerely,
Sara Madlock Coleman
Valerie Migliore
Statement 1
I am Valerie Migliore a retired school administrator from Connecticut. I am proud to call Nevada my home! I am asking for your support to be an Alternate Delegate for CD3.
As a state delegate for Hillary Clinton in 2016, like most of us, I was stunned to see her lose. I decided to step up my commitment to getting the White House back from Trump the moment he was elected. I want to address 3 important agendas: Education, Gun Legislation, and Immigration.
All Nevada students should have the best education possible regardless of where they live. It was difficult to see that Nevada was ranked at the bottom of the list in education. We need to work hard to improve student outcomes for every child in Nevada! Joe Biden will support funding to do this!
I was Education Director at the Speech Academy in Connecticut at the time of the Sandy Hook School shootings on 12/4/12. Parents need assurances that their babies are safe from mass shootings. I know Joe Biden will make this a priority. Joe Biden supports the Second Amendment but he draws the line on assault weapons. I support this position.
As Joe Biden has often said we are a nation of immigrants. As Democrats we believe that all human beings should be helped. We need to invest in a more expeditious path to citizenship for those who want to be in our great country.
I will bring this message to the National Convention to get Joe Biden elected as our next President!
Kenneth Miller
Statement 1
I am seeking your support for me to represent Nevada Democrats at our party's National Convention in August. I am a professor of political science at the University of Nevada, Las Vegas, a lifelong Democrat, and a resident of southwest Las Vegas. Before becoming an academic I worked in campaigns for Senate Majority Leader Harry Reid (NV), Senator Barbara Boxer (CA), Governor Ted Strickland (OH), and several candidates for the U.S. House on down to local school board.
Our party's national convention will be a unique and challenging one and the stakes are high. A pandemic threatens the lives of our people, so many Americans face racial injustice every day, and our economy is on the brink. The current administration offers only chaos in response.
America needs the Democratic Party to provide the hopeful alternative to this chaos. We need a convention that showcases Joe Biden, our platform for positive change, our diversity, and our vitality. And we need to accomplish this in circumstances that change almost daily. I hope that my experience in campaigns and my academic background will be assets at what we expect to be an unusual convention.
I am grateful for this chance to serve as a delegate at such a critical time for our nation. Thank you for your consideration.
Carolyn Murray
Statement 1
My name is Carolyn Murray.

I am running for National Delegate because I want the opportunity to learn from other National Delegates successful techniques they have used to Get Out The Vote (GOTV). Having worked in several campaigns my favorite segment of the campaign cycle has become GOTV. I know it may not be the most popular segment for everyone but it is my favorite.

In 2012 I was asked to be the Women for Obama Leader in the town in which I lived. One of the first tasks I was asked to do was create an event for Democratic women in the area. These were women who were frequent voters but most of whom had never volunteered in a campaign. We began with seven women. We decided to meet again in two weeks and have each woman bring another Democratic woman with them. We had 19 women at that meeting. I conducted a short presentation on how to make calls during a phone bank. After our third meeting I asked if anyone could stay for an hour and join a phone bank that was going on in the building. Many women did. Our group continued to grow to 35 women. I had the pleasant task of finding a larger location to meet in. We began meeting every Wednesday evening for a phone bank. Before long some women were coming on Tuesday morning and others Wednesday evening. By the end of October when we had our final meeting there were 53 women and 3 men in attendance. We did a lot of work, had a lot fun, and brought out a lot of votes.

In 2013 I moved to Nevada. Since that time I have volunteered in campaigns for: Senator Jacky Rosen, Congresswoman Susie Lee, and Assemblywoman Lesley Cohen. Whether phone banking with volunteers, walking my precinct, or as Site Lead on Caucus Day I am constantly looking for your new techniques to GOTV.

Everything I did for President Obama and the Nevada candidates I will do to help elect Joe Biden.
Carolyn Murray
Nevada State Central Committee
Clark County Central Committee District G Rep and Eboard member
Precinct Captain – #7672
Ruben Murillo
Statement 3
Jeff Norman
Statement 1
My Name is Jeff Norman and I have been a Las Vegas resident since 1999. I came into the US on a P1 visa while working for Cirque du Soleil. I then had the privilege to get my Green card and then my US citizenship in 2017. Las Vegas has grown a lot since then and has faced some major challenges. I am proud to say that with our strength and resolve, we have always risen to the occasion.
But I fear that the country is under stress from a lack of leadership and moral courage from our current Senate and Executive. Their agenda and policies seem to have little benefit to the majority of "We, The People". Major cracks in the foundation of our society are growing. We need to address many issues – Health care, education, jobs, justice that will benefit all citizens and not just the wealthy and country club owners.
I believe that Americans are not lazy, but are hard workers and honest people that only want the best for their families and communities.
I believe that Joe Biden sees this and empathizes with the citizens that have been struggling for years. I believe that he listens and works hard for the little guy. I believe that he has the statesmanship needed to restore the credibility of the United States on the world stage. I know that he can provide stable leadership and support the Constitution. And I will do everything to support him.
Thanks,
Jeff Norman
Boyd Penton
Statement 3
Alex Pereszlenyi
Statement 3
Marcy Ramirez
Statement 3
To be fully committed to a Presidential campaign is to be there on the ground when the roots are planted on day one. It's exciting to meet with the RODS and FO'S when they arrive into our home towns. Sharing our experience with one another is an intricate part of the process. We begin to grow as a team and I find its amazing when we finally arrive to GOTV, and witness the incredible people we now call friends. These are the people who will walk across the finish line with me.
I'm asking for your vote to represent Joe Biden as a 2020 Democratic National Delegate. Here's a short list of my grassroots through the years:
2012 Obama/Biden Volunteer
2012 Along with a group of several volunteers, I was invited to WDC to represent the state of Nevada, and share our ideas on moving forward.
2013 Invited and attended the Presidential Inauguration and Inaugural Ball.
2013 Volunteered to assist the public enroll in the ACA.
2015 Grassroots Volunteer to start up Hillary Clinton's campaign.
2016 Super Volunteer for Hilary Clinton.
Volunteer Catherine Cortez Masto for US Senate
Volunteer Jacky Rosen for House of Representatives
2018 Volunteer Jacky Rosen for US Senate
2019 June – Grassroots Volunteer for Joe Biden
2020 Feb Meet and greet with Jill Biden at my home for the Super Volunteers
Clark County Delegate for Joe Biden
State Delegate for Joe Biden
Candidate National Delegate for Joe
Thank you for reading my story, and I look forward to seeing you on the campaign trail for Joe Biden.
Marcy Ramirez
Josh Sandmel
Statement 3
Pamela Scantalides
Statement 1
Please consider my candidacy for National Delegate, on behalf of Joe Biden, to the Democratic National Convention.
I am a resident of Henderson, NV. We recently moved to Nevada two years ago from Massachusetts. As Registered Democrat for 50 years, I have always been active in both local and national efforts to support our party and its candidates.
It would be my great honor to represent my new state and help nominate Joe Biden for the presidential candidacy.
Sincerely,
Pamela Scantalides
Jennifer Webb-Cook
Statement 1
I am Jennifer Webb-Cook and I am asking for your vote for National Delegate for Joe Biden, District 3. I am a retired twenty-eight year special education teacher with the Clark County School District and currently the District Representative A with the Clark County Democratic Party (CCDP). I was the site lead at Liberty High School for 2016 and 2020. I was also a national delegate in 2016 for Hillary Clinton. I've held many positions within CCDP but being a national delegate is my most prized position.
The reason I'm supporting Joe Biden is because I feel he will accomplish what he set out to do. He will support the issues that are near and dear to America i.e. protecting voting rights, LGBTQ rights, climate change, women's rights, gun registration laws and black lives matter issues). Biden has great allies to assist him in making decisions and he can stand up to the present administration.
I will represent you proudly at the national convention if given the opportunity. I am dedicated, passionate and ready to serve you. Again, I am Jennifer Webb-Cook and I humbly ask for your vote for National Delegate for Joe Biden, District 3.
Mary Wolff
Statement 2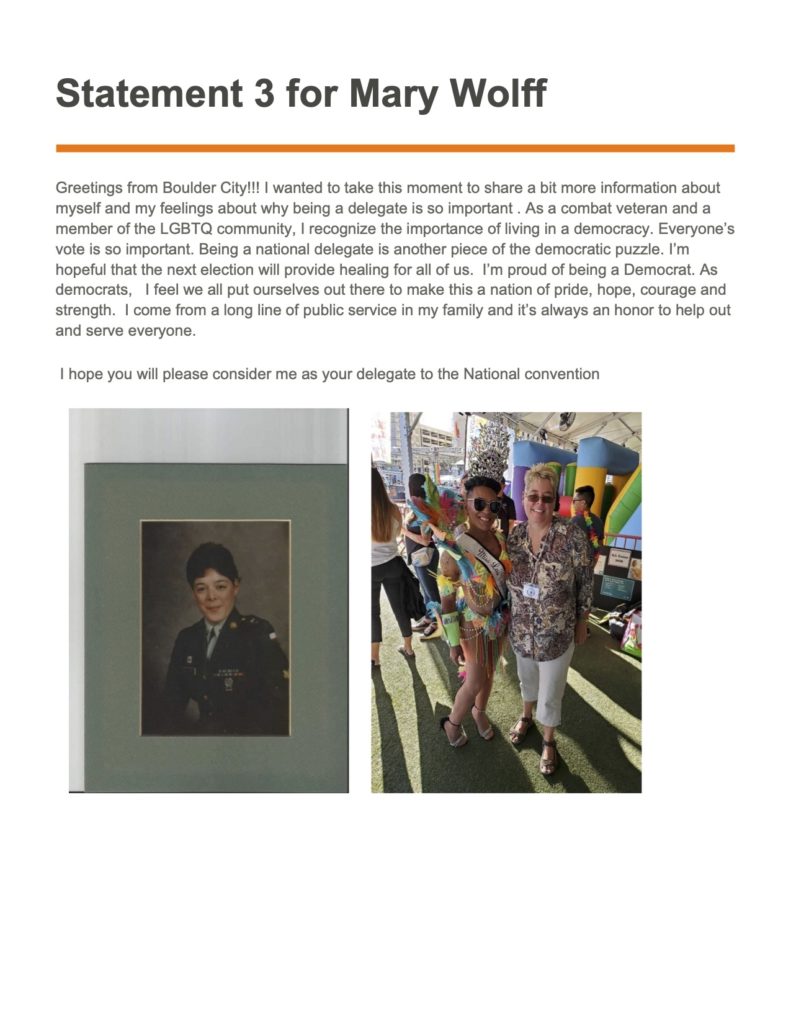 Candidates for Pete Buttigieg
Samantha Allen
Statement 3
My name is Samantha Allen, and I am a candidate for the national delegate for Pete Buttigieg from District 3.
We have been having a national debate about a very basic human need in this country – access to health insurance! There are so many issues with our health insurance programs – lack of coverage and access to health care, financial burdens that our healthcare system imposes on many of us, and people having to stay in jobs that they dislike in order to have health insurance coverage – to name a few. I strongly believe that access to affordable, quality health care is a basic human right and should be for every American in this country!
At the same time, I recognize that making that drastic change and overhauling a huge, fundamental part of our society is not going to happen overnight. Pete recognized that too; hence, he came up with a great starting point – Medicare for All Who Want it. This would be a feasible approach to work towards health coverage for all Americans, but it would allow for a systemic, rational approach to implementing the solution.
One of my favorite qualities about Pete is that he is very logical, reasonable, and has a systematic approach to solving complex problems. His approach to healthcare access was just one example that I saw during my time following him on the campaign.
I am Team Pete Buttigieg forever, and strongly believe in everything that this man has to offer our nation!
Candidates for Bernie Sanders
Marcia Armstrong
Statement 3
Adam Berger
Statement 1
Hello Brothers and Sisters
My name is Adam Berger and I am a super volunteer for the Bernie 2020 campain, and a member leader of Make The Road Nevada. I'm announcing my candidacy to be a DNC delegate for Bernie Sanders in Congressional District 3.
Bernie is the most progressive candidate, and maybe even the most progressive US politician. While he failed to secure the Democratic nomination back in 2016, here's a list of why Bernie Sanders is a good choice, if not the best choice.
Heres what you can expect from Bernie.
"Medicare For All, free college tuition, and student debt relief, A Green New Deal, with an ambitious jobs program, strong climate-conscious environmental regulations, universal child care, massive investement in housing and public education, a national $15 minimum wage, expanding social security, banning predatory lending, strong pro-union legislation, ending corporate tax giveaways, mandatory paid sick and family leave and vacation, gender pay equity laws, dismantling private detention centers, demilitarizing the police, banning for-profit prisons, end the War on Drugs, ending voter suppresion, stoping illegal bombings, ending the War on Terror, non-interventionalist foreign policy, and on and on."
For four decades, Bernie has been championing policies like universal health care and has spoken against US foreign intervention and capitalist policies that have been hurting the American people.
All of these reasons are why I am running to represent Nevada's 3rd Congressional District. I will fight for progressive policies for all regardless of immigration status.
Thank you.
Adam Berger
Milan C. Davidovic
Statement 1
I am running for an at-large Delegate Position for the Bernie Sanders' Campaign because we're at a critical inflection point in our nation's future. The upcoming election is for the heart and soul of America. I have always been a powerful advocate for decency, equality and treating others as brothers and sisters. I not only believe in my values, but I also stand for them.
Our nation's values are under assault. The GOP understands that the demographics of the country are changing and as their ability to maintain power is coming to an end all they can do is delay the change. There is too much money in politics. There are too many self-serving politicians in civil servant positions. We the people are suffering from inequities and nobody is listening.
The Democratic Party has also resisted the progressive left's narrative, but the damn is beginning to break. Americans are waking up to the failures of our system. It's time to start reframing the political questions because the old narratives have narrowly framed the discussion for too long. We are stuck in a stagnant cycle. We must press the Biden campaign to acknowledge our progressive ideals and incorporate them into his agenda.
Unfortunately, this next election is about more than politics it is about human decency!
If my words resonate with you send me to the Convention I will represent Nevada's voter's values and our platform.
Milan C. Davidovic
Tyler Doane
Statement 3
Hello again friends,
A Bernie Sanders nomination at the Democratic Convention may no longer be possible, but we can't give up hope on his platform. The policies that Sanders brought to the spotlight are too important to cast aside when their implimentation would have a profound effect on our society. Those policies would halve the prison population, decriminalize marijuana, and ban for-profit-prisons. Everyone regardless of income would be have the ability to see a doctor and recieve treatment. Women would have sole control of their bodies and not fear their rights could be taken away because Roe vs. Wade would be codified. It's a future worth fighting for, and at the National Convention, I would push for as much of Sanders' platform as possible. We already knew his campaign wasn't about him, but about changing our world for the better.
Not Me, Us.
Thanks once more for reading,
Tyler Doane
John Draper
Statement 3
Hi,
I'm John T. Draper, seeking your vote for Bernie Sanders delegate for the National Convention. I'm a computer security consultant by trade.
I've served 4 years in the USAF as a radar technician, keeping our northern radar systems in top operating condition. I worked for Apple Computer when there were only 12 employees and developed a lot of the early software tools used by some of the very early computers.
In the late 1979, I developed the first word processor called "EasyWriter" originally for the Apple II computer. IBM eventually discovered it, and bought out the rights.
I'm strongly in support of small entrepreneurial businesses, and believe that Bernie will be the one to pass strong laws to protect small businesses and support tax breaks for each employee we hire.
I support manufacturing of products to be made in the USA, especially software development where in the past has been outsourced to India because of cheap skilled labor, cutting out small businesses.
Our educational system needs to focus more in Trade schools geared towards current skills needed in today's highly specialized skills. While visiting India, I discovered thousands of specialized trade schools for Software engineering, funded by the Indian Government
So this is why I feel I can be a good delegate for Bernie because of my Technical skills, and knowing what it takes to Boot Strap our technology ahead of other countries.
Christina Gioia
Statement 3
Hello everyone. For those who haven't met me yet, my name is Christina Gioia, and I am running for National Delegate for Bernie Sanders.
I wanted to do this final statement as more of an open letter to my fellow delegates. Together, we have been through a lot this past year; moments of victory, pride and progress, moments of defeat; heartache, and adversity. We have found a home of solidarity with each other, a place to come together to fight as one. Now, here we are in June 2020, and the landscape of our country is quite different than it was when Bernie's campaign began. I think, however, we could all agree that now – more than ever, Bernie's vision is our only hope at moving forward justly in America. Whether I am elected, or whomever has the privilege to represent our iconic humanitarian, altruistic fighter at the National Convention – we have to speak for the millions of us out there who need Bernie's vision for our country. We must stand with conviction, with all that beautiful energy we brought to the campaign, and make sure that Bernie's vision is never forgotten. The Democratic Party must commit to act on his policies.
I will end with this: whatever happens in the next couple months, I will never lose sight of this movement. Being amongst fellow Bernie supporters I have hope that the United States, which I not long-ago presumed dead, is very much alive. Thank you!
Iman Joseph
Statement 3
For so long we have addressed the superficial issues that people in this country face every day, but we have yet to make permanent positive change. As we cut down the branches of trees, the ancient ideologies and prejudices remain at the roots and will continue to grow new branches, or problems. We need to target the roots of the issues themselves. Finding solutions begins with promoting the values and belief system that Bernie Sanders exemplifies in his statements of change. Our problems begin with injustice. History teaches us that we cannot amend our past mistakes until we find a new solution, instead of taking minor steps of avoidance. We amend our past mistakes by planting new seeds. We must be open to new and diverse ideas to develop a better world for our children.
​The current pandemic has taught us more than anything that we must stand together for a solution. Many of the problems that I encounter are shared by many, but can also differ in many minor ways. The problems faced by individuals in this country are not our problem until we become involved. Bernie's platform recognizes humanity; he understands what it means to value human life. He understands hardships that he may not necessarily share by offering solutions that consider the diverse population of this country. As a delegate, I want to aid in bringing change to the injustice and discrimination that faces the masses of this country, and with Bernie Sanders, it would be possible.
PHUONG-GIAO LE
Statement 2
Nevada is important for the early primaries due to the fact that it is the only state that most resembles the demographic make up of the United States—age, racial groups, gender, income disparities—and is therefore the most representative of the country's political needs and wants. The divisiveness of the 2016 election and the ensuing chaos from the current administration and Congress have shown a need for a unifying candidate, and despite the suspension of his campaign, Senator Sanders was the decisive choice for the people of Nevada, and I want to honor the promises of his campaign by keeping true to my intent to be a national delegate for him. The rest of the primary season has not ended; other states have not been given their voice for their preference, and of those who have after Senator Sanders dropped out, significant portions of the votes still went for him. Representing him on the national level, when we in Nevada have already shown we are proportional to the country, is what we can give to our out-of-state neighbors: a voice and community that never stopped believing in the visions of his campaign.
Chris Roberts
Statement 3
Fellow Delegates,
My previous two messages to you were in video form, and I encourage you to visit www.chrisfornevada.com to watch them if you've not already.
I chose to write my final message so that I can put my commitments to you in writing.
As your delegate from CD-3, I will fight for the things our movement stands for:
Healthcare is a human right, so I'll fight to include support for a universal, single-payer system in our national platform.
A living wage is a human right, so I'll fight for a $15 an hour minimum wage.
Education is a human right, so I'll fight for college for all and the elimination of student loan debt.
A clean environment is a human right, so I'll fight for a Green New Deal.
Being alive is a human right, so I will proudly stand against government violence and with Black Lives Matter.
Even though Bernie Sanders has suspended his campaign, the movement continues. It's our job now to keep moving forward, fighting for justice, and advocating for a government that works for us and not the billionaires and corporations.
I am proudly endorsed, along with Marcia Armstrong and Michael Weiss, by Clark County Left Caucus. I humbly seek the same trust from you when I ask for your support and your vote at the state convention on June 11th and June 12th.
I am eager and ready to serve as your representative to the Democratic National Convention.
In Solidarity,
Chris Roberts
Jacquelyn Spicer
Statement 1
Michael Stella
Statement 2
It is important for all of you to understand don't involvement with the Bernie Sanders campaign here in Nevada. This previous summer I took part in the Students for Bernie Summer school and learned how to organize my fellow classmates to get involved in the political process, something that is crucial to the future of the democratic party and that is one of the main reasons I am running to be a National Delegate. While I may not have the experience that other candidates for this position have, I have something that most of the candidates do not and that is that I am young. As a participant in the Students for Bernie National Organization, I learned how to be an effective organizer. With the help of the local Bernie office and alongside other student volunteers, I created the Henderson Students for Bernie chapter. This group was created to get students involved and show them that politics was important and not something that they should be afraid of. Outside of my work with students I was an avid canvasser and phone banker.
Tiffany Stoik
Statement 2
I send this message to you while at the same time wishing that you and your loved ones are well and staying safe in these troubling times. What a year 2020 has been! To me, it shows that doing things "as we have always done them" and maintaining the "status quo" is no longer acceptable. With your VOTE, I will be the agent of change from Nevada representing YOU my fellow Democrats, as your DNC Committeeman and Executive Board Member on the Nevada State Democratic Party.
Here are just some of my views: Healthcare for all is a basic human right, Criminal Justice reform and enhanced civilian oversight of law enforcement is a must, livable minimum wages and job protection standards are required, employees shall always have the right to unionize, and discrimination of any kind must not be tolerated.
In terms of the criminal Justice system, I have worked hard as a board member of the independent Citizen Review Board for Clark County that reviews the LVMPD. I along with my fellow board members continue to work hard to drive change in the use of force policy as well as the use of body cameras by officers. I have served as the Chairman on numerous hearing panels reviewing LVMPD internal affair cases ensuring the rights of those in our community are upheld.
As Chairman of the Las Vegas Audit Oversight Committee, I have worked hard to ensure fraud, waist, and abuse within the City are eliminated. The work that our City Audit team does to hold those managing City Department's accountable to laws, regulations, and standards is needed to protect taxpayer funds.
As for NV Dems and the DNC, change is not something to fear. The Party must be inclusive of new ideas and be bold in its Platform and hold elected officials accountable to the Platform. Attempts to do things in secret, excluding individuals, and not excluding themselves where conflicts of interest exist, will not be tolerated under my leadership and I will call out and address loudly unethical behavior and practices.
By now, I hope you have reviewed my first statement, candidate filing packet, and have started to get to know me a little better. Should you have any questions, feel free to reach out at: joethroneberry@aol.com
Once again, I respectfully ask for your VOTE during the upcoming NV Democratic State Convention June 11th – 13th. Remember to vote JOE THRONEBERRY where you see my name on the ballet. Be well and stay safe.
Eshaan Vakil
Statement 2
Dear Nevada Democratic delegates, as time grows closer to the day of our vote, the world is changing. As seen in Minneapolis' pending abolition of the police department, all our dreams previously thought impossible are now within our grasp. The year of 2020 will be remembered as a pivotal one. It's more important than ever that we ensure our views are represented both in Milwaukee and nationwide. As a young Nevadan, I would love to carry your views to the rest of the nation!
Michael Weiss
Statement 3