Under Attorney General Aaron Ford's leadership, Nevada has won nearly half a billion dollars in settlements, bringing more money to the Silver State, holding corporations accountable, and protecting Nevada families. Just this week, AG Ford announced a $152 million settlement with CVS Pharmacy to help tackle the opioid epidemic.
Read more below about AG Ford's commitment to fighting for Nevadans.
Las Vegas Review-Journal: AG brings Nevada big bucks in lawsuits
Taylor Avery
May 16, 2023
Key Points:
Attorneys general nationwide have the ability to join lawsuits on behalf of their states, oftentimes teaming up to sue organizations or companies that violate the law and harm their state's residents.
Nevada, under Attorney General Aaron Ford, has joined several settlements in recent years, including a handful resulting in more than $455 million awarded in cases against opioid distributors and manufacturers.
Read the full story here.
The Nevada Independent: AG: Nevada to receive $152 million from opioid-related settlement with CVS
Sean Golonka
May 16, 2023
Key Points:
As part of the latest settlement with major drug companies held liable for the ongoing opioid crisis, Attorney General Aaron Ford announced Tuesday that Nevada will receive $151.9 million from CVS.
That brings Nevada's total recovery from lawsuits against opioid companies and their subsidiaries to "more than a half a billion dollars," he said during a press conference in Carson City.
Ford said the funds from the retail and pharmacy chain would be used for the "abatement of the opioid crisis" through funding for treatment programs and services. From those funds, $61.6 million will be retained by the state, while the remaining dollars will be distributed to local governments under a statewide agreement for the distribution of opioid litigation recoveries.
Over the past two years, Ford has announced settlement victories against major opioid companies totaling more than $391 million, with Tuesday's announcement bringing that total to $543 million.
Read the full story here.
Associated Press: Nevada secures $152 million opioid settlement with pharmacy chain CVS
Gabe Stern
May 16, 2023
Key Points:
Nevada and pharmacy chain CVS have reached a nearly $152 million settlement to be paid over the next decade to end a lawsuit over opioid claims, state Attorney General Aaron Ford announced Tuesday.
According to an Associated Press analysis, the settlement is one of the 10 largest between a single state and a single company over opioid claims. It also puts the total money Nevada expects to receive from opioid litigation settlements since 2020 at $606 million, according to Ford's office. It marks the largest sum the state has brought in opioid-related litigation by itself.
Ford said about $80 million of the CVS settlement will go to a coalition of Nevada county and city governments, and the state will retain nearly $70 million. A panel of experts will make recommendations for using the money to mitigate the opioid epidemic, he said.
Read the full story here.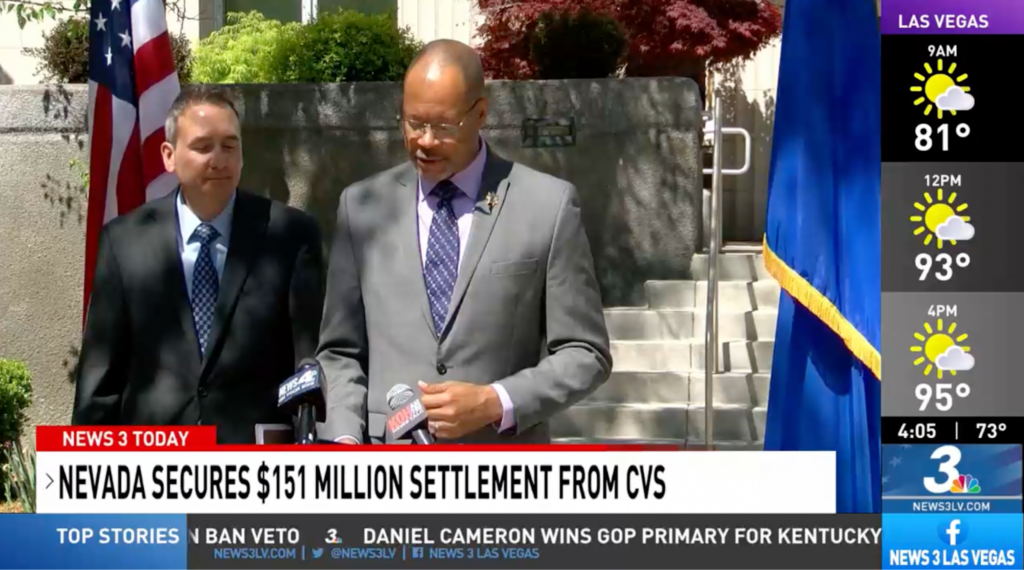 ###