Chair William McCurdy II

chairmccurdy@nvdems.com
(702) 737-8683
William McCurdy II is the Nevada State Democratic Party's first African American Chair and the youngest Chair in modern party history at 31 years old. He was born and raised in Las Vegas and was elected in 2016 to represent District 6 in the Nevada Assembly. After dropping out of high school as a teenage father, William started working construction and became the youngest foreman on a big job. He eventually decided he had to finish school if he wanted to achieve his goals, and he got his high school diploma at the age of 24. McCurdy is the former student body president of the College of Southern Nevada, where he graduated with honors. As CSN student body president, William fought for his classmates by advocating against tuition hikes and supporting legislation for the state's first need-based aid program. As a union organizer with Service Employees International Union (SEIU) Local 1107, William fights for better pay and better workplace conditions for their members. The first bill he presented as a new Assemblyman was to raise the minimum wage to a living wage of $15 an hour. William is committed to uniting the party, organizing and registering voters in every corner of Nevada, and leading Democrats to victory up and down the ballot in 2020.
First Vice Chair Marty McGarry
mmcgarry@nvdems.com
(775) 690-3913
Marty McGarry is a lifelong Democrat who became active in Nevada politics after moving to Carson City in 2003. She met soon-to-be President Barack Obama on the campaign trail in 2007 and never looked back. Before becoming First Vice Chair, Marty served three terms as Chair of the Carson City Democratic Central Committee starting in 2011. Marty, a graduate of San Jose State University, worked as a Community Association Manager for 12 years and now works for Incline Property Management. She is married to Carlos Briones and is actively involved with many local civic organizations.
Second Vice Chair –
Vacant
Secretary Marla Turner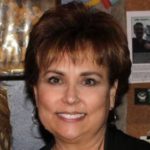 SecTurner@nvdems.com
(702) 610-9043
A native of Las Vegas and lifelong Democrat, Marla began volunteering in the community at the age of nine. She worked on numerous campaigns in the 80s before turning her attention to raising a family and building a career in health care. She returned to politics in 2007.  Today, Marla is the founder and publisher of The Blue Nevadan, a comprehensive website and weekly newsletter for all things Democrat in the entire State of Nevada. She is a graduate of and immediate past president of Emerge Nevada, a candidate training program for Democratic women and the senior consultant for several other candidate and campaign management training programs in Nevada. She is also the creator and chair of the Nevada State Democratic Party's activist training program. She has volunteered for nearly 100 political campaigns and served on numerous non-profit boards in the areas of public health, education, community organizing, women's issues, the arts, and minority owned small business development. She is the mother of two children and "Grammy" to three grandchildren. She and her husband live in Las Vegas.
Treasurer Jan Churchill
janchurch567@aol.com
(702) 824-1960
Jan has served as Treasurer of the Nevada State Democratic Party for about two decades. During that time she has helped maintain all of the party's financial records and compliance reports, ensuring that every dollar that goes in and out of the party is reported accurately with the Federal Election Commission and the Nevada Secretary of State. She has had careers in real estate and insurance, and she served as a District Representative for 14 years for Congresswoman Shelley Berkley. Jan enjoys cooking, baking, quilting, and spending time with her five grandchildren.