After campaigning on law and order, Joe Lombardo has been accused of knowingly and willfully violating Nevada law in at least 68 instances and is facing a fine of up to $1.6 million – the largest campaign-related civil penalty in state history.
Lombardo repeatedly featured his sheriff's uniform and badge in campaign materials last year but as Lombardo was warned, state statute strictly prohibits public employees from using government resources for political gain. While Lombardo touted his law enforcement credentials, the truth is he was arrogantly flying in the face of the law for his own political ambitions.
"Joe Lombardo's flagrant violation of ethics rules – and repeated disregard for warnings against – is nothing more than his arrogance in action," said Nevada State Democratic Party Executive Director Hilary Barrett. "Despite centering his campaign around law and order, Lombardo clearly believes he is above the law. Just months into his term, the governor has consistently proven law and order is nothing more than a talking point. Political gain is always his first priority."
Read more below about Lombardo's corruption.
Las Vegas Review-Journal: Lombardo violated ethics laws, state commission executive director says
The Nevada Commission on Ethics' executive director alleges Gov. Joe Lombardo committed multiple ethics violations by using his sheriff's badge and uniform during his governor's campaign, according to materials the commission released Tuesday.
In a motion before the commission that was included in a 456-page packet of materials, the Executive Director Ross Armstrong asked the commission to order Lombardo to pay a civil penalty of about $1.67 million, that a censure be issued and an ethics officer be designated to his office.
Nevada state law says "a public officer or employee shall not use the public officer's or employee's position in government to secure or grant unwarranted privileges, preferences, exemptions or advantages for the public officer…"
"The Ethics Law and the Commission's precedent have been clear for many years that the use of a uniform and other accoutrements of office — including a badge — to support one's campaign constitute violations," the commission's Associate Counsel Elizabeth Bassett wrote.
Armstrong also argues that Lombardo's violations were "willful," in part because he did not self-report or attempt to rectify the violations before or after the complaints were filed.
It also cited a 2021 Nevada Independent article in which Lombardo's campaign strategist said that voters were entitled to know about Lombardo's law-enforcement background, and that it was vital for voters to know a candidate's work experience.
Armstrong, however, wrote that if the commission finds a "single willful violation" against Lombardo, he is required within the ethics law to provide that information to speaker of the Assembly and the majority leader of the Senate.
"What the Legislature does with the information once received is then wholly within the Legislature's constitutional powers, which may include a variety of sanctions, up to and including impeachment," he wrote.
KTNV: Gov. Lombardo could face $1.6 million civil penalty if found violating ethics law
On Tuesday, the State of Nevada Commission On Ethics is investigating Governor Joe Lombardo's use of his uniform as a sheriff of the Las Vegas Metropolitan Police Department as he was campaigning for his current position.
The commission is investigating potential violations on the following statutes according to a document provided:
Using his public position to secure or grant unwarranted privileges, preferences or advantages to benefit himself.
Using governmental time, property or equipment or other facility to benefit his significant personal or pecuniary interest or that of a person to whom he is a commitment in a private capacity.
If the commission determines that a violation has occurred, the following penalties could apply:
A censure from the commission
A requirement to designate an Ethics Officer within the Governor's Office
A civil penalty of $1,665,000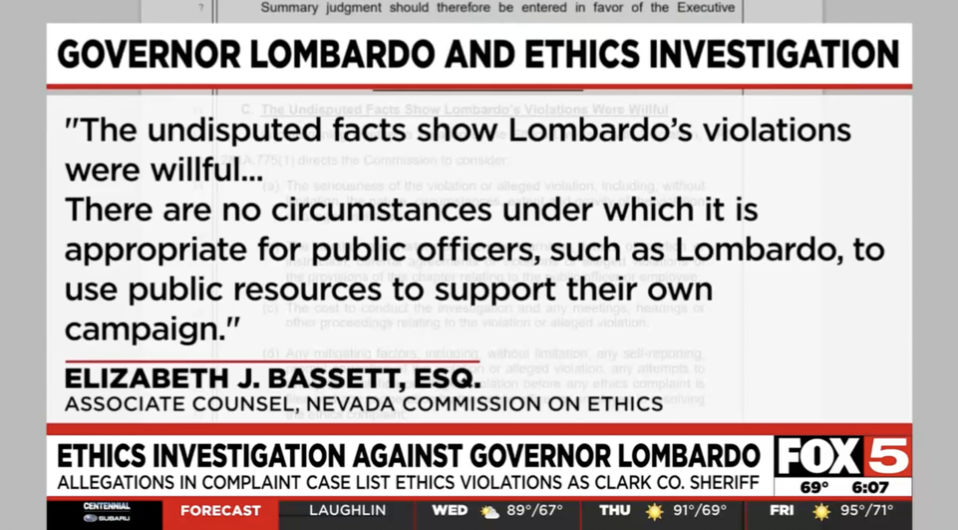 "68 possible violations of state law are being investigated about his time while he was campaigning for governor and was still Clark County sheriff at the time."
"Now as a possible punishment, the Nevada Commission on Ethics is recommending a censure and $1.6 million fine."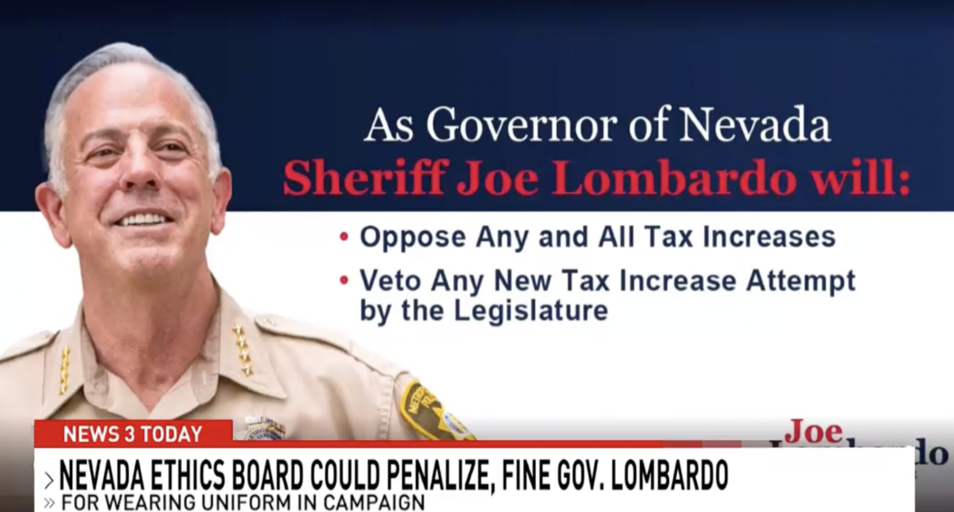 "He ran on the basis of being the former Clark County sheriff…but the problem is he wasn't supposed to wear any of his uniforms in his advertisements. Nevada state law says a public officer or employee should not use their position to secure privileges or advantages."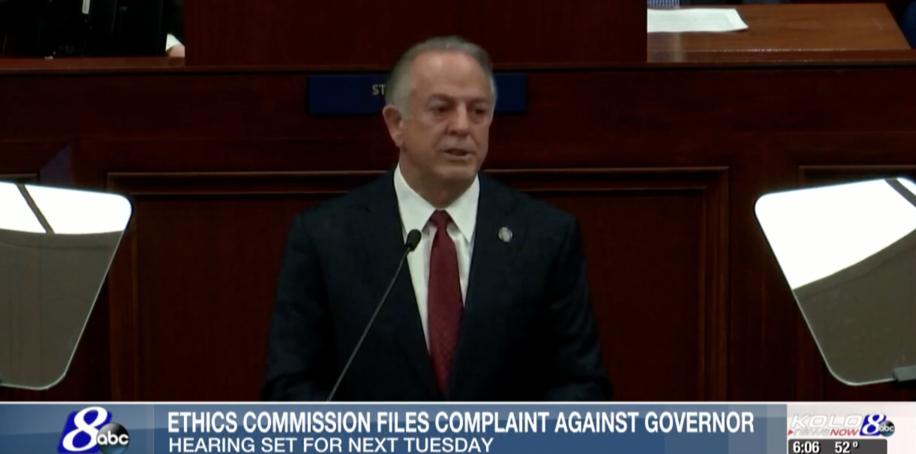 "The Nevada Commission on Ethics alleges Lombardo used his position and government resources improperly when he was the Clark County sheriff running for governor."
###