This week, Democrats laid out their priorities for the final month of session and reaffirmed their commitment to delivering for Nevada families, while Lombardo showed his biggest concern isn't public safety or critical social services but new office furniture. Keep reading for all the highlights!
Dems Deliver
Democratic leaders made clear their priorities for the next month: helping hardworking families and keeping Nevadans safe. It's no surprise Lombardo "dismissed" these priorities as he focuses on his deeply important quest to buy a new couch for the governor's mansion.
Associated Press: Nevada Republican Gov. Joe Lombardo sharpened his criticism of majority Democrats' alternatives to his budget priorities Wednesday, dismissing their proposals to fund more social safety nets as "feel-good" politics.
[Democratic leaders] emphasized their priorities of protecting election workers, passing fentanyl legislation and expanding social safety nets for low-income and underserved families.
KTVN: Assembly Speaker Steve Yeager was joined by Treasure Zach Conine, Attorney General Aaron Ford, and Secretary Of State Francisco Aguilar to discuss their shared priorities in the last month of the legislative session.
A reiterating message: Nevada's government isn't working the way it should to help working Nevadans.
"Strengthening our public education system, increasing access to healthcare, protecting Nevada families from fentanyl, investing in childcare and other vital family supporting programs, making sure every Nevadan has their voice heard in the electoral process, and building the state that Nevadans deserve to live in," said (D) Nevada State Treasurer Zach Conine.
New polling shows just how popular the Democratic agenda is among Nevadans who largely support enshrining abortion protections in the Constitution, gun violence prevention measures, and lowering the cost of prescription drugs.
The Nevada Independent: Poll: Majority of Nevadans back lottery, gun control, abortion protections in constitution
Senate Democrats are leading the effort to help Windsor Park residents in North Las Vegas relocate from a sinking neighborhood to safer, affordable housing.
Las Vegas Sun: Homeowners in sinking North Las Vegas subdivision could receive state funding for new homes
MAGA Moments
After breaking his campaign promise to increase State Police pay "immediately" and then refusing to support legislation giving State Police raises and back pay, the Lombardo Administration is now cutting early morning officer shifts due to staffing shortages – leaving Nevada families to pay the consequences.
KRNV: Nevada State Police union says they can no longer provide around-the-clock coverage
While he leaves law enforcement and our communities behind, Lombardo's top priority became clear this week: new office furniture!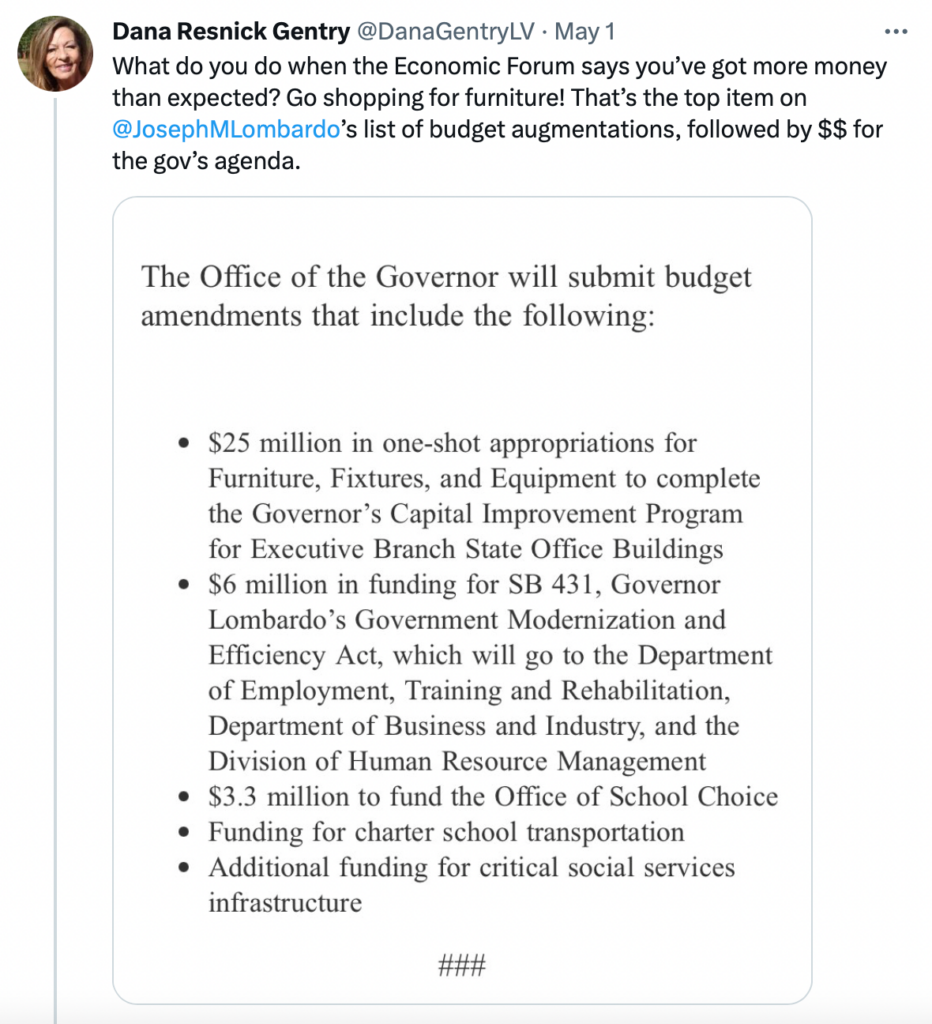 We're in the home stretch so stay tuned for all the updates for the final month of session! 
###