Marchant: Brown is "establishment's choice," not with "MAGA Movement"
Nevada's "primary brawl" is getting messier by the day.
Former Assemblyman Jim Marchant released comments attacking Mitch McConnell's hand-picked candidate Sam Brown for being "another Republican establishment's choice" and declared the race to be "MAGA vs. establishment."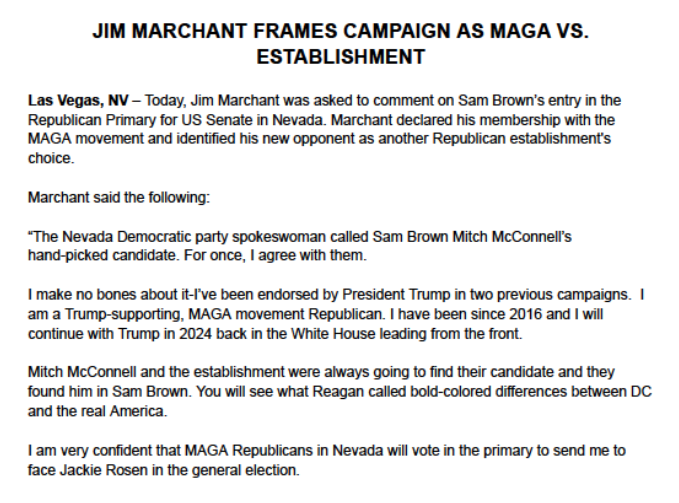 Marchant also bragged about being a "Trump-supporting, MAGA movement Republican" who has been endorsed by Donald Trump twice and is backing his 2024 presidential bid.
Meanwhile, Brown has refused to answer questions on whether or not he will support Trump in the presidential primary, and even tried to paper over his own support for Trump's Big Lie.
Nevada State Democratic Party Spokesperson Johanna Warshaw
"The Nevada GOP primary is only getting messier by the day. With Trump continuing to loom large over Nevada, Republicans will be forced to spend the next year fighting over who is more aligned with his MAGA agenda – and we can't wait to watch them try."